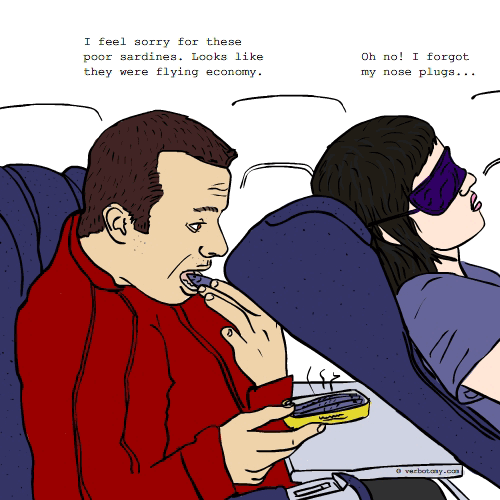 DEFINITION: n., A feeling of discomfort, common while sitting on a plane or train, created by the sense that you are about to be decapitated by your fellow passengers who are tilting aggressively towards you. v. To sit in a very small space, which seems to be getting smaller.
Ampak
Created by: artr
Pronunciation: ampak
Sentence: As Monday morning approaches Jason dreads his trip on the Ampak commuter train. Never one to enjoy crowds, this rolling sardine can is no fun. He*s torn as to which is worse, standing or sitting. If he stands he is treated to breakfast on the breath of at least 6 fellow commuters, seated he gets vestiges of last night*s dinner. Phwew!
Etymology: Amtrak (a federal passenger railroad service in the U.S.) + packed (cram a large number of things into a container or space)
Points: 497