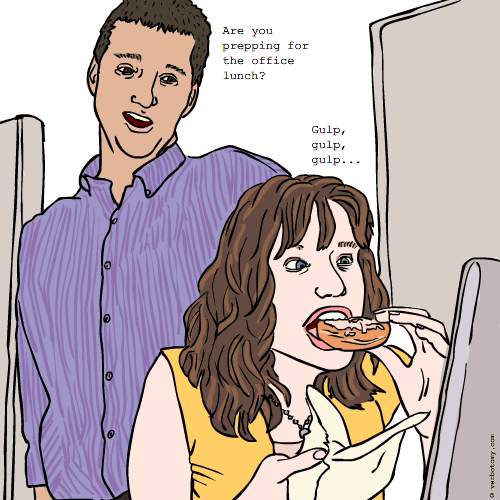 DEFINITION: v. To pig out at your desk right before a business lunch, so you'll be satisfied with a salad and water at the restaurant, and create the impression that you're not a glutton. n., A secret snack taken to strengthen one's resolve not to eat too much while others are watching.
Sneakpigout
Pronunciation: sneek pig owt
Sentence: What a Boar! Peggy was doing her usual sneakpigout at her desk before the big lunch out with the bosses. Apparently it was in honor of the new guy (hunk), Les Piggott. Just as she was cramming a big chunk of pizza into her cake-hole, the honoree stopped by her pen. He told her she was sow lovely and looked swill. He offered to give her a ride on his hog. She herd the haunting music of Swine Lake and then before she knew it they were porking each other in her sty and missed the lunch completely. She became Miss Piggy and he was the Loin King. Afterwards, news of their cloven encounter was bacon the rounds at work.
Etymology: Sneak (clandestine;secret;put, bring, or take in a secretive or furtive manner) & Pig Out (overeat or eat immodestly; make a pig of oneself) Play on Sneak Peak.
Points: 452