Verboticism: Missedconception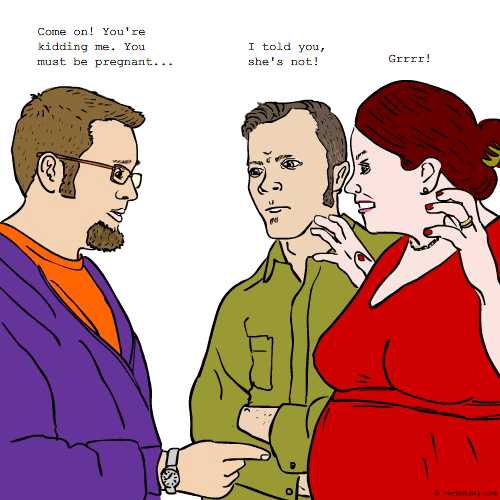 DEFINITION: v., To enthusiastically congratulate a woman on her pending motherhood, only to be told that you are mistaken. n., The dashed expectations and pregnant silence that follows mistaken congratulations.
Missedconception
Pronunciation: mis′d·con·cep′·tion
Sentence: Although Kimberly would never admit it, she desperately wanted to have a child; Loretta did not. But Loretta looked pregnant, and was often asked by strangers "when is your boy or girl due?" This didn't bother Loretta, who would park in expectant mother spaces and convince offices where she occasionally temped to host baby showers. "What are you going to do with all these baby clothes?" asked Kimberly "I don't know," responded Loretta "dress my dolls and plants with them. Come meet Mr. Fern and his kids." Loretta's flippant attitude annoyed Kimberly, who realized that they were both the victims of missedconception.
Etymology: missed (feel absence of) + conception (making a baby) Play on Misconception (a false impression or belief)
Points: 545