Verboticism: Stuporvision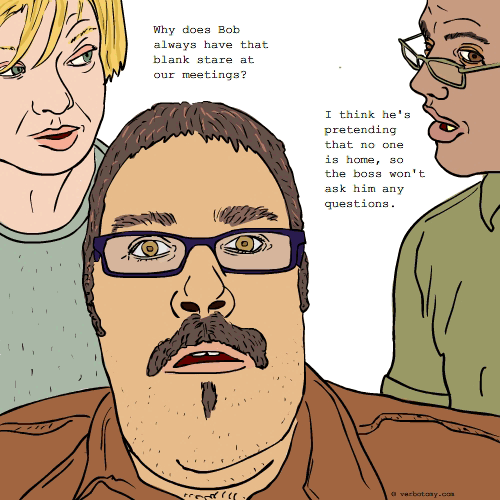 DEFINITION: v., To avoid unwanted interruptions (visits, calls, or emails) by pretending to be unavailable, unreachable or unconscious. n., A person who pretends they are not home in order to avoid talking to someone.
Stuporvision
Created by: artr
Pronunciation: stoōpərvizhən
Sentence: Denise*s supervisor is a super hero. He has powers far beyond those of mortals. The sound of his voice can crack glass. The mere clearing of his throat can disburse a gathering at the water cooler. His laser-like stare can cause workers to leave their Facebook status updates and get back on task. When the **Big Boss** is on the prowl with productivity questions he employs his greatest power of all. He uses his stuporvision to look like he is deep, deep in thought. He is so good at it that **Mr. Bigpants** might even apologize for interrupting and return to the ivory tower.
Etymology: stupor (a state of near-unconsciousness or insensibility) + supervision (to observe and direct the work of others)
Points: 404