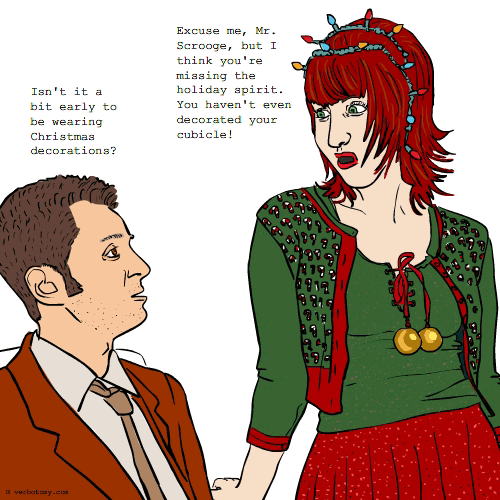 DEFINITION: n., A person so enamored with the holidays that they don't just deck their halls and home, but they also decorate their car, their cubicle, their pets, and themselves. v., To obsessively decorate according to seasonal holidays.
Xmascot
Created by: artr
Pronunciation: eksməskät
Sentence: There might just be elf in Kris*s family tree. She has taken on the role of Xmascot, decorating everything in sight including herself. Starting the day after Thanksgiving, she has an outfit for every day, most involving tinsel and lights. She is devoted to the holiday. Just managing the extension cords is close to a full-time job.
Etymology: Xmas (informal term for Christmas) + mascot (a person or thing that is supposed to bring good luck or that is used to symbolize a particular event or organization)
Points: 377