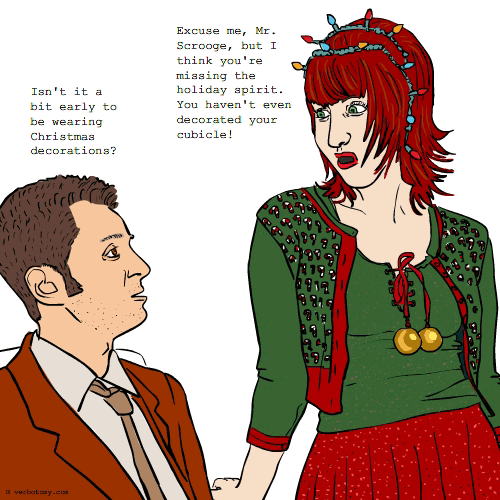 DEFINITION: n., A person so enamored with the holidays that they don't just deck their halls and home, but they also decorate their car, their cubicle, their pets, and themselves. v., To obsessively decorate according to seasonal holidays.
Yuleogize
Pronunciation: yool o jiyze
Sentence: Holly Berry and Carol Sing took the Christmas Season very seriously at work. Just as soon as the Halloween decorations had been removed, they decked their cubicles and all other areas of the office with Christmas lights, mistletoe, garlands, Nativity scenes and various decorations. Every year they would buy more to add to their collections. They also decked themselves in Christmas jewellery, attire and headgear. Visitors were agog at their efforts. Little or no real work was done during this time, although the two elves kept themselves working at a fever pitch to achieve the feeling of Christmas. One year they overdid it and expired. Holly Berry was buried and Carol Sing sung her last song. Their boss, Ebenezer McManager did break down and yuleogize them for their spirit and enthusiasm at all things Christmas. People finally appreciated what those girls had done each year for them. In their honor thereafter, he ordered the decorations to stay up year-round so that their spirits would remind the employees of that Christmas feeling.
Etymology: Yule (Christmas Season, Dec.24-Jan.06;also pagan Winter Season Holidays)& Eulogize (praise formally and eloquently)
Points: 473