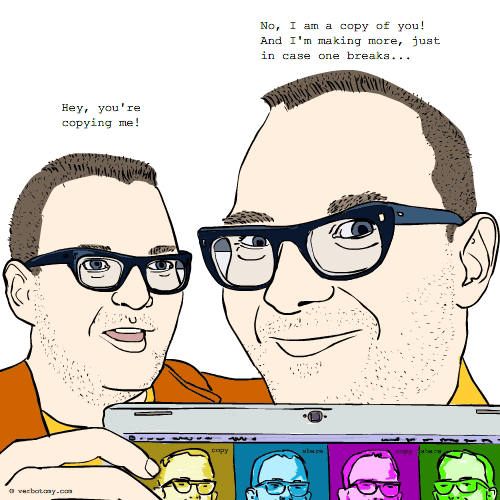 DEFINITION: v. To copy and share an idea, thing, or person because you think that it's so wonderful that everyone should have one. n. An open source clone.
Gnuplicate
Pronunciation: g-nooo-plee-kate
Sentence: Alvin was so egotistical that he decided to GNUplicate his genetic material and distribute himself freely to anyone who wanted to have him; however, once the open source developers got through with him he wasn't anything like himself. Everyone agreed, though, that they liked him better than himself, including his mother, who downloaded him to see if she could make some improvements on the original.
Etymology: GNU (pronounced g-noo as one syllable with no vowel sound) is General Public License software that is "free" in the sense that the licensee can run, copy, distribute, change and improve the software. Developers from the Free Software Foundation depend on public interaction, improvement and support to continue their work and because of it, many software programs that were once financially out of the reach of certain entities such as schools can now use sophisticated software tools for teaching + duplicate: identically copied from an original
Points: 728
Voted For!