Verboticism: Weightforsurgery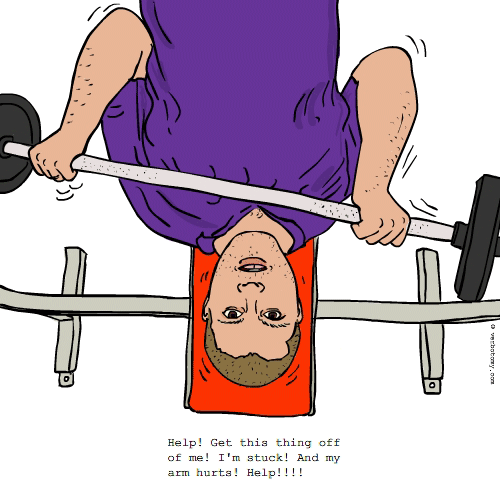 DEFINITION: v. To return to the gym in order to get back in shape, only to over-do-it and injure yourself. n. An injury which is the result of an overly ambitious exercise program.
Weightforsurgery
Pronunciation: wayt for sur juree
Sentence: Smedley was determined to turn himself from a bookish, skinny nerd into a bronzed, buff love god. Unfortunately, he did not prepare himself properly...his bid to get laser surgery to correct his myopia failed and he needed even stronger glasses. His day at the tanning salon was also a disaster since he looked like a buttered lobster when done. And his weight training at the gym made him tear tendons, ligaments and caused him to become a weightforsurgery case. With any luck he'd be back to his old nerdy self in 6-9 months. He should have left well enough alone!
Etymology: weight (sports equipment used in calisthenic exercises and weightlifting; a weight that is not attached to anything and is raised and lowered by use of the hands and arms) & For Surgery (a medical procedure involving an incision with instruments; performed to repair damage or arrest disease in a living body) Rhymes with Wait for Surgery...all too common and lengthy a wait these days, sadly)
Points: 488