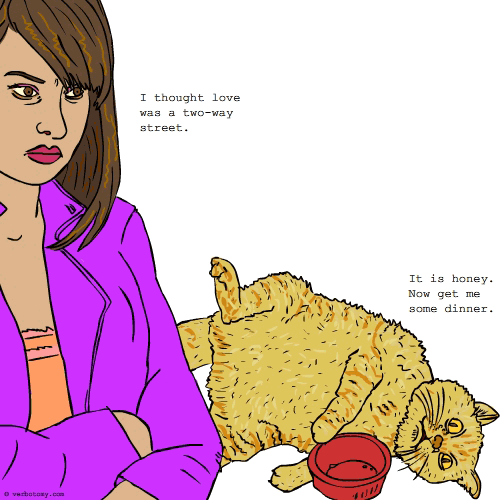 DEFINITION: n. A lovable yet stupid pet. v. To be dumb, fat, lazy, arrogant, and totally, completely, irresistibly cute.
Petulax
Pronunciation: PETCH-you-LACKS
Sentence: His name was Anfernee- loveable boob! Not really more than a fuzzy food tube. Out on a ledge, too fat to turn round… He sat there and cried, and hoped to be found. Chewed his way into a couple food sacks- Now he's dozing away like a real PETULAX!
Etymology: PETUlant+LAX=PETULAX.....PETULANT: characterized by temporary or capricious ill humor, insolent or rude in speech or behavior; Latin or Middle French; Middle French, from Latin petulant-, petulans; akin to Latin petere to go to, attack, seek [1598].....LAX: having loose bowels, articulated with the muscles involved in a relatively relaxed state, deficient in firmness, slack; Middle English, from Latin laxus loose [14th century].
Points: 746