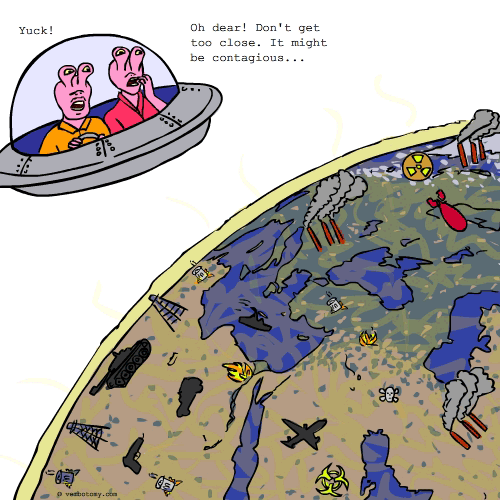 DEFINITION: n. A sick planet which has a cold, a fever, and some kind of weird infection. v. To be worried sick about the health of the planet, because you know the problem is really the people.
Botoxic
Created by: artr
Pronunciation: bōtäksik
Sentence: Earth: Conditional critical. The bad news: The various poisons that humans have foisted on the planet have put it in a botoxic state. The good news: The surface of earth will be much smoother and less wrinkled once the pesky humans are gone and their annoying buildings and roads crumble and return to nature.
Etymology: botox (a drug prepared from the bacterial toxin botulin, used medically to treat certain muscular conditions and cosmetically to remove wrinkles by temporarily paralyzing facial muscles) + toxic (of or relating to poison)
Points: 620