Verboticism: Cleanfoolerus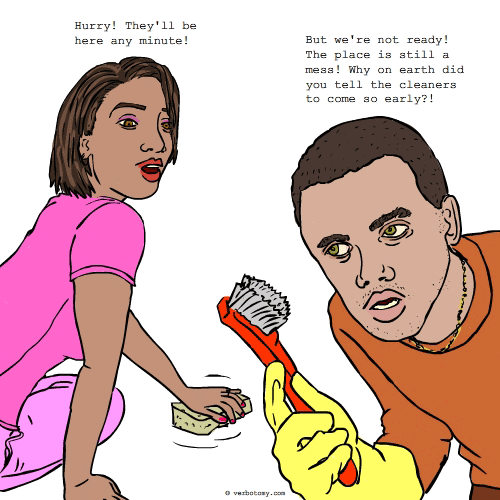 DEFINITION: n. Redundant and often clumsy preparations made before meeting with a "professional" -- like a hairdresser, dentist or cleaning lady. v. To prepare for a meeting with a professional by trying to hide the fact that you desperately need their services.
Cleanfoolerus
Pronunciation: kleen-fool-er-us
Sentence: Mrs. Prizzy Kanabee Ostentatious busily scrubbed and cleaned her already clean floors walls and silk designer wool carpets before the new servant arrived for an interview. Her husband Mr. Pennypincher Honeydo Ostentatious the III, would often get irritated at Prizzy's "cleanfoolerus" habits and would argue with Prizzy...that keeping up appearances for others was foolish since he was paying for exuberant services they really didn't need becasue that was what stay at home Prizzy did herself... (or so he thought) Mr. Pennypincher Honeydo Ostentatious the III was so angry of Prizzy's "Cleanfoolerusness" because he was missing playing golf with his buddies. Little did Mr. Pennypicher Honeydo Ostentatious the III know that Mrs. Prizzy Kanabee Ostentatious was secretly spending extra money for a cleaning service twice a week that she kept hidden from her husband. Prizzy really did need this new servant to maintain their home for Prizzy to be able to keep going for her afternoon teas at the Ladies Club and shopping sprees in Missisagua.Finally Prizzy wouldn't have to hide the fact she wasn't actually cleaning their house every week...
Etymology: Clean;To tidy up wash and shine,scrub. Fooler; To fool or be fake. Us;Two or more people. Cleanfoolerusness;The act of being Cleanfoolerus.
Points: 824