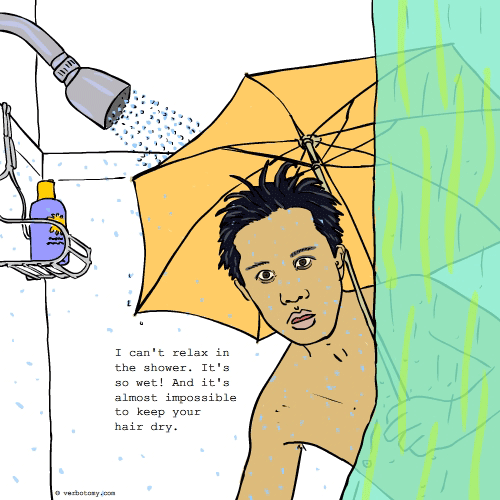 DEFINITION: v. To take a really long, relaxing, shower; so long in fact, that you loose concept of time. n. A prolonged shower that uses up a whole tank of hot water and leaves the bather looking like a boiled raisin.
Raisinumb
Created by: artr
Pronunciation: rāzənnəm
Sentence: Matt loved his new massaging showerhead. He spent such a long time in the shower that he was totally raisinumb. He didn't even notice that the hot water had run out or that he was turning blue. He only snapped out of it when the sound of his chattering teeth broke the drone of the pulsating water jet. Tomorrow he is going for prunumb.
Etymology: raisin (a partially dried grape) + numb (deprived of the power of sensation) prunumb (just like raisinumb but with prune-sized wrinkles)
Points: 785