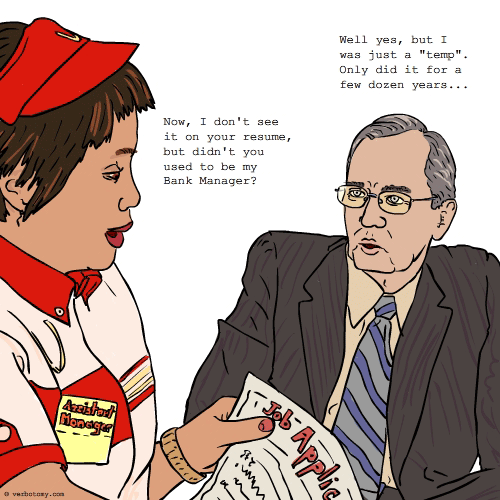 DEFINITION: v. To deny one's accomplishments, or minimize one's abilities in order to obtain a job. n. A resume, or list of qualifications, which has been disembellished and disemboweled to meet extremely low job requirements.
Dummydown
Pronunciation: dumb me down
Sentence: Once upon a time, (for this is how all fairy tales begin) the king exiled Mr. Loang Gone Silver, the bank pirate, to the I'lland country, where he thought his stashed salary millions, awaited him in an off-shore account. King Blackberry, however, had used his magic compupowers to hi-hack the money back! Due to his infamy, Mr. Loang Gone Silver had to change his name, and hide the terrible fact he was once a note-orious bank president, and go looking for a job. His dummydown resume' led him to his new job, as the dumbme, down at the gift shop on the beach, where he became the strawboss and sole-seller of straw shoes and straw hats. Mr. Loang Gone Silver was given the ailias Mr. Long Gone Bigshot.
Etymology: DUMMY, DOWN which is synonymous with DUMB ME DOWN. Dummy - 1) a fake. -2) an offensive term that deliberately insults somebody's intelligence or credulity ( informal insult ). Dumb - of lesser intelligence. Down - at a lower level.
Points: 914