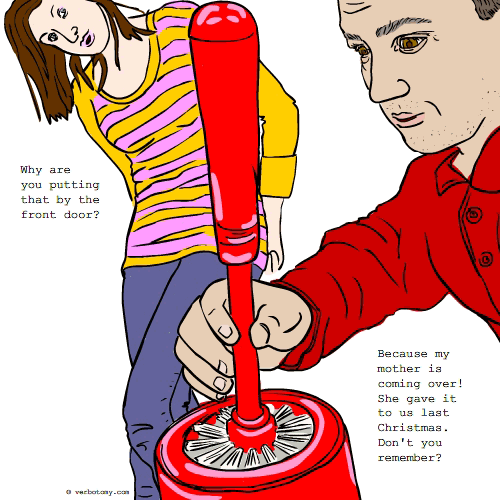 DEFINITION: n., An ugly decorative item or article of clothing received from friends or relatives, which is kept stored away but ready to be pulled out at a moment's notice in anticipation of a return visit. v., To temporarily place an old, and perhaps unattractive gift in a place of honor.
Faceholder
Pronunciation: Faye Solder
Sentence: Dear old Aunt Faye. She would be best described as having a heart of gold, being generous to a fault, and possessing a taste for the profoundly kitsch. The cupboards of her relatives were stacked to the brim with gifts ranging from the impossibly garish, to the patently absurd. This year, Jayne and John were taking their turn at hosting the family festive gathering. Some show of appreciation for Faye's presence would have to be shown, so after a short deliberation it was down with the Salvador Dali print, and up with "Big Mouth Billy Bass"! Fortunately the luncheon passed without major incident; the family chipper, overfed, and blissfully subdued. Suddenly, an uncomfortable silence fell over the mirthful murmur as Faye inquired: "John whatever became of that delightful water feature I gave you, or that fabulous paisley shirt?" Faceholder to the rescue! John strolled casually over to Billy Bass and just before pressing the button he remarked "Dear Aunt Faye! My shirt has been worn so often, it's at the tailors for a mend. But Billy you see is the pride of the mantle!" And the family, relieved, joined Billy in a rousing rendition of "Take me to the river"
Etymology: Placeholder: Object or entity employed until an adequate replacement can be found. Face (to save): action employed for the purpose of maintaining dignity.
Points: 791