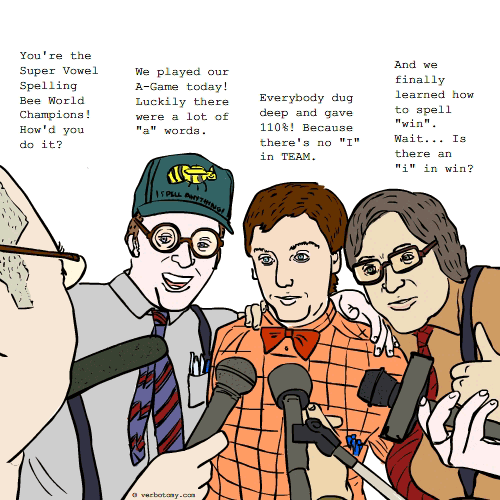 DEFINITION: v., To speak in an inspirational but perhaps incomprehensible manner by stringing together a series of grunts and clichés. n., An inarticulate TV or radio, post-game interview, typically given by a panting, toothless, sweating, verbally-challenged, and hugely overpaid, athletic superstar.
Stumbledumb
Pronunciation: stuhm bull dumb
Sentence: The sportscaster said "Oh!" After a long pregnant pause, he uttered "Uh Oh!" Then breathed a long sigh. Then seconds later "Oh No!" with another long sigh, followed by heavy breathing, then by "Eh!" He gulped a few times, then groaned and moaned. Then switched to "Yeah" .... "Come on" .... "Ah Hah!" "Mmmm Hmmm" then "Hooray!" Not once, did he anounce the fumbles, followed by the touch down. That sportscaster's stumble blocks made him the epitome of a stumbledumb!
Etymology: Stumblebum and Dumb. Stumblebum - an offensive term for somebody who appears to do things in a blundering unskillful way. Dumb - Encarta gives the 7 definitions listed and at least the first 5 apply (#3 especially): 1. unintelligent: regarded as having or showing a low level of intelligence ( informal insult ) 2. offensive term: an offensive term meaning unable to speak 3. temporarily speechless: temporarily unable to speak because of shock, fear, surprise, or anger 4. done without speech: performed or expressed without using speech 5. intentionally silent: deliberately not speaking or refusing to speak 6. producing no sound: designed or adapted to produce no sound 7. lacking human speech: lacking the power of speech because not human
Points: 605