Verboticism: Falsguestation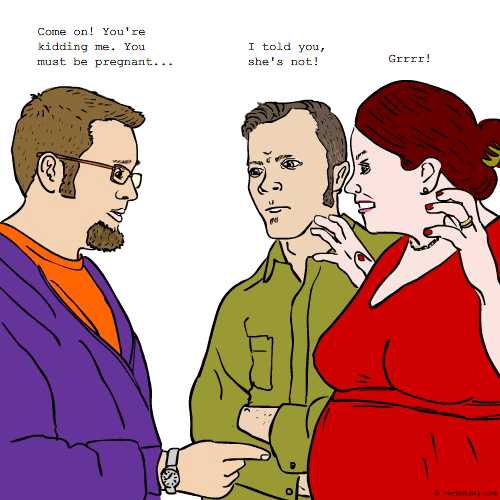 DEFINITION: v., To enthusiastically congratulate a woman on her pending motherhood, only to be told that you are mistaken. n., The dashed expectations and pregnant silence that follows mistaken congratulations.
Falsguestation
Pronunciation: Falls + Gess + Tay + Shun
Sentence: I hadn't seen Cheryl in a few years. It was a magical evening, our sorority sister reunion couldn't be more special. We had great food, wonderful weather poolside, listening to one of our favorite college bands. I was so eager to talk to Cheryl, relive old times and catch up on news. "Pink or blue, when is it due?", I gaily sung, as I approached my obviously pregnant friend. She wheeled around, glaring at me and retorted "Wow, I must have gained more than I realized." "I have been unable to have children, Lindsey". I was totally mortified by my falsguestation.
Etymology: The word "false" (meaning wrong, not true) starts off this word, joined by most of the word "guess" (to expect, believe or suppose)and finally, the word "gestation" is added (the period of time a baby is carried in the womb, pregnancy)
Points: 593