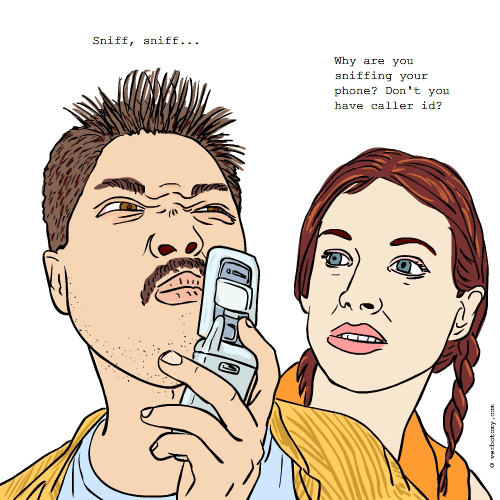 DEFINITION: n., A compulsive need to sniff everything and anything you pick up, even things that typically do not have distinctive odors. v., To habitually sniff everything within your grasp -- just to make sure it's fresh.
Inhailstorm
Pronunciation: in hayle storm
Sentence: Being with Eddie was like always being in an inhailstorm. This was because he had to compulsively sniff at each and everything, just to ensure it had not gone off. One could easily testify that the only thing that had ever "gone off" was Eddie himself. Once a gifted wine "nose" and then a gifted perfume "nose", Eddie had smelltered himself to the situation where people only called upon him if their carbon monoxide detectors failed or they suspected a gas leak. Yes, Eddie had stuck his nose in one too many places and now was facing a de-scent into madness!
Etymology: hail (precipitate as small ice particles;enthusiastic greeting ) & inhale (to breathe in) & hailstorm (a storm during which hail falls)
Points: 455