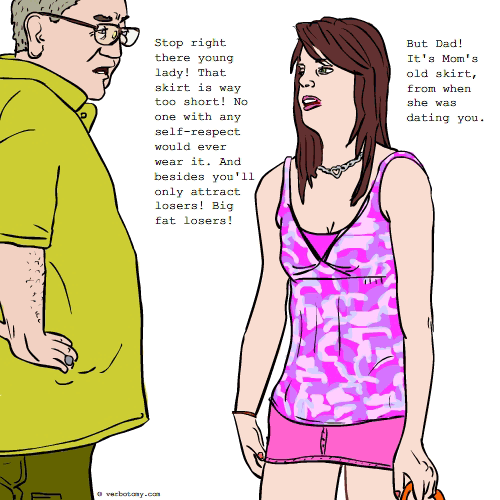 DEFINITION: n., A fashion item so old that it has gone out of and come back into style. v., To save outdated clothing hoping that it will come back into style.
Zombitogs
Pronunciation: ZZZOM-bee-tawgz (pronounced slowly, with an spooky inflection)
Sentence: Jean-Luc was reluctant to discard his old cabana wear, elephant bells, Lazarus jeans or Nehru jacket because he was SURE they would complete the great "Circle of Life" and be trendy once again. His daughter considered them ZOMBITOGS and looked askance when he asked her if she'd seen his dickie. Undaunted, Jean-Luc donned his tie-dyed t-shirt, slipped on his Earth shoes and denim jacket, then stumbled down to the wharfside beer garden where he pounded down a few bottles of fine Dominican rum and lamented the sartorial treasures which lay unappreciated in his fungi-filled basement. ZOMBITOGS INDEED !
Etymology: ZOMBIE+TOGS=ZOMBITOGS.....Zombie: Haitian Creole term meaning a supernatural power or ectoplasm able to enter and re-animate a dead person or fashion accessory.....Togs: colloquial term meaning "clothing"
Points: 629