Verboticism: Quislectonose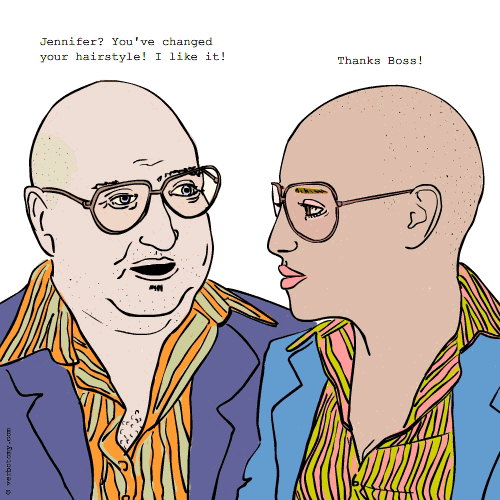 DEFINITION: v. To seek approval from your boss by emulating their style, mannerisms or affectations. n. A person who copies their boss's style in order to win favor.
Quislectonose
Pronunciation: kwiz-LECT-oh-nose
Sentence: Mickey was already known to be the boss's puppy, following a step behind her, eating the same tasteless gluten-free bagels and wearing the same kevlar running shoes she had imported from Communist China, but everyone's collective jaws dropped open when she came to work with the same poorly-executed hairstyle and dollar-store sunglasses worn by our demented supervisor. Her secret nickname was forever changed from "The Wedge" to....QUISLECTONOSE ! She would rat out her comrades, applaud every hare-brained idea generated by management and now...gradually begin to resemble the wicked witch of the west. When a new director came to power after a Somali warlord-like interdepartmental coup d'etat, Mickey changed her appearance faster than an axis collaborator on the run. Now it was time to QUISLECTONOSE the new boss.....
Etymology: QUISling+refLECTion+brownNOSE=QUISLECTONOSE___quisling: traitor; particularly one who collaborates or panders to superiors_____reflection:to redirect something that strikes a surface, especially light or hairstyles, mennerisms,etc.usually back toward its cretin of origin_____(brown) nose:To curry favor with in an obsequious manner; fawn on_____thus:QUISLECTONOSE
Points: 608