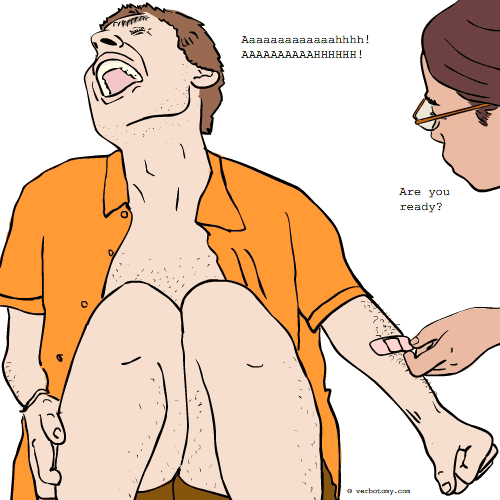 DEFINITION: n. The horrible pain that comes from pulling a bandage off of hairy skin. v. To inflict pain or injure when removing a bandage.
Ripillatory
Pronunciation: rip ill a toree
Sentence: Gavin was such a big baby about anything medical. No wonder men didn't have the babies or the human race would have died out long ago. He fainted at the sight of blood, so Blood Bank donations were nightmares for him. The way he told it, getting a blood test was a major psychological drama for him. He'd had no choice...doctor's orders. Get that blood test or else! Gavin summoned what little courage he had and had the blood work done. He pressed the cotton ball on the spot and when it was deemed safe, the nurse put a bandage on the afflicted area. He was told in an hour he could remove the bandage. Sure enough, an hour later, he talked his wife into gently please removing the bandaid. Naturally, the revenge she felt for all his crybaby acts was strong, so she pulled it off fast and nasty. The ripillatory agony he experienced was only surpassed by the phone call from the lab, saying they'd accidentally dropped his blood vials and he would have to return in the morning for retests! NOOOOOOOOOOOOOOOO!
Etymology: rip (to tear or be torn violently;the act of rending or splitting something) & ill (an often persistent bodily disorder or disease; a cause for complaining)& depilatory (something used to remove hair;able to remove hair or render hairless)
Points: 710