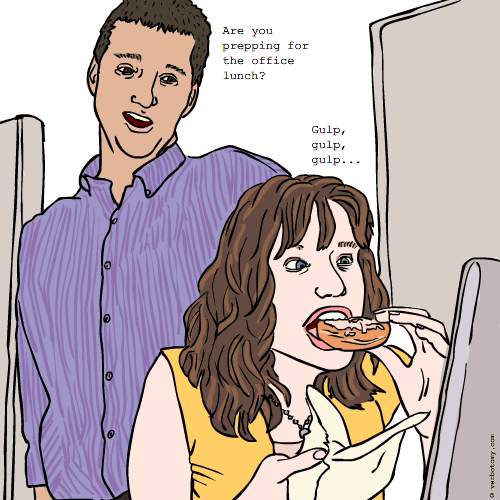 DEFINITION: v. To pig out at your desk right before a business lunch, so you'll be satisfied with a salad and water at the restaurant, and create the impression that you're not a glutton. n., A secret snack taken to strengthen one's resolve not to eat too much while others are watching.
Cramoflage
Pronunciation: KRAM-uh-flahzh
Sentence: Bob, an arcanivore, whose hogma was: " lets binge from breakfast, for at office lunch we diet", carefully cramoflaged all morning long on Krispy Kreamy donuts.
Etymology: CRAMOFLAGE: blend of cram & camouflage, 2. HOGMA (hog & dogma) 3.ARCANIVORE: (arcane & -vore, as in omnivore)
Points: 479