Verboticism: Phonypubepoints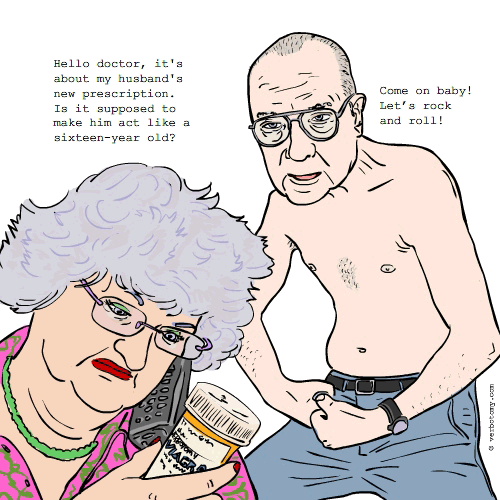 DEFINITION: n. An unintended consequence of medical or psychological therapy, especially if the therapy is supposed to make you feel "young again". v. To feel young and stupid again.
Voted For: Phonypubepoints
Successfully added your vote for "Phonypubepoints".
You still have one vote left...
Created by: sanssouci
Pronunciation: Ree Flick Sir Lies
Sentence: I hesitated outside the brightly decorated shop and peered through the window. The shop was called Medimagic, it had only been trading for a month but already the business had got quiet a good reputation here in our little village of Greenwood, especially amongst the older community. Just the other day, while I was sitting on my wooden bench, relaxing in the afternoon sun outside my old little cottage. I was flabergasted to observe an energetic figure running towards me, my old mate Harold, 85 years old and there he was full of life like a sixteen year old lad! "They sell this herbal remedy George! They call it Relixerlize, I don't know what they put in it. It must be magic, look at me! I'm on fire" he loudly proclaimed, dancing around on my daffadils. Now here I was, curiosity got the better of me and I wanted a bit of what Harold had got. I stepped inside, I was getting myself some Relixerlize.
Etymology: reflex + elixer + revitalize = relixerlize reflex 1. noting or pertaining to an involuntary response to a stimulus 2. occurring in reaction; responsive. elixir 2.A substance believed to maintain life indefinitely. Also called elixir of life. 3. A substance or medicine believed to have the power to cure all ills. revitalize 1. to give new life to. 2. to give new vitality or vigor to.
Created by: Osomatic
Pronunciation: ther + up + eek!
Sentence: Oh gosh, Grandpa's doing one-armed Marine pushups in the garden again - I wish he'd never gotten that therapeeeek.
Etymology: therapy + eek
Created by: bigdog
Pronunciation: mahl-ah-pube-izm
Sentence: Ever since Gerry Atric started taking his viagra cocktail, he's demonstrating all sorts of malapubisms - started skateboarding at 70 and suddenly everyone's a "dude"...
Etymology: malapropism (incorrect or undesirable word usage) + pubescence
----------------------------
COMMENTS:
just saw this - very clever! - Jabberwocky, 2007-06-18: 14:22:00
Takes me back - where? - ajcor, 2007-06-20: 19:12:00
----------------------------
Created by: Katisms1
Pronunciation: OOPS! - SHOULD READ: Sprydefect! (Pron: SPRYIDE-e-fekked. Fekked, like my typing. I can't believe I managed to misspell a word I made up! ;-)
Sentence: While Granny was initially happy the little pill had brought some lovin' back into their bedroom, being awakened ten times a night by an urgent poking in the small of her back was rapidly becoming an unwelcomed sprydefect of the drug.
Etymology: spry + defect
Created by: remistram
Pronunciation: there-ap-oops
Sentence: Dr. Evil didn't warn Albert & Lena about possible side effects or that therapoops is known to occur in older people.
Etymology: therapy + oops!
----------------------------
COMMENTS:
I think that this word also describes that "cleansing" diet. - purpleartichokes, 2007-06-18: 12:53:00
like the liver detox thingy? - remistram, 2007-06-18: 14:36:00
Yep, the dietrhea. - purpleartichokes, 2007-06-18: 14:39:00
but of course...is dietrhea yours? - remistram, 2007-06-18: 15:11:00
If you mean have I ever tried that dietrhea - no. I'd likely gag on the tonic shitzer. - purpleartichokes, 2007-06-18: 15:23:00
I think that's a runs-on sentence. - Clayton, 2007-06-18: 19:55:00
you guys areeeebbjbbb....sorry i slipped...its hard to type at the moment because i'm sitting on a loose stool - rikboyee, 2007-06-18: 21:21:00
ok enough verbal diarrhea! (my apologies...) - remistram, 2007-06-19: 09:47:00
----------------------------
Created by: rikboyee
Pronunciation: cah-coon-see-kwens
Sentence: sure, i had extra vitality, but the appearance of 15 superfluous nipples was an upsetting cocoonsequence
Etymology: consequence, cocoon[the movie...with steve guttenberg]
----------------------------
COMMENTS:
too much catnip pill error, i'd say - galwaywegian, 2007-06-18: 06:18:00
Sheesh, that's some breast unhancement! - purpleartichokes, 2007-06-18: 09:38:00
She must have misread the part where it said it would improve her mammary. unrelate: Everybody knows Wilford Brimley was the star of Cocoon! - jadenguy, 2007-06-18: 11:51:00
----------------------------
Created by: Stevenson0
Pronunciation: yoo/thuh/ney/zee/ast
Sentence: Viagra and some other new miracle drugs are a form of youthanasia. With these drugs, young ideas, images and urgings are brought about in an old, incapable body.
Etymology: youth + euthanasia
----------------------------
COMMENTS:
I always thought Youth In Asia was an evangelical missionary program... - rephil, 2007-06-18: 10:14:00
I thought Yoot in Asia was a documentary about Seaman creator Yoot Saito. - jadenguy, 2007-06-18: 11:45:00
----------------------------
Created by: Jabberwocky
Pronunciation: slide/eefekt
Sentence: The slideefect to the new medication made Bob wear baggy pants that hung low on his hips and let his underwear show. It gave a whole new meaning to slip slidin away
Etymology: slide + side effect
----------------------------
COMMENTS:
Glad you put that song in my head. "Let's Get It On" was kinda inappropriate for work. - purpleartichokes, 2007-06-18: 06:54:00
Excellent word. - ErWenn, 2007-06-18: 12:22:00
----------------------------
Created by: artr
Pronunciation: medidātng
Sentence: Since Edith passed Richard has had little interest in re-kindling his love life but his doctor has introduced him to a new sport; medidating. A couple of little pills give him the redumb to seek out the company of women with confidunce.
Etymology: medicate (administer medicine or a drug to someone) + dating (a social or romantic appointment or engagement)
----------------------------
COMMENTS:
clever... - mweinmann, 2010-01-12: 07:41:00
----------------------------
Created by: serendipity9000
Pronunciation: spry-pra-duct
Sentence: The therapy had the weirdest spryproduct - he started doing cartwheels after every session!
Etymology: spry (lively or active) + product; pun on byproduct (side effect)
----------------------------
COMMENTS:
Wonderful! - ErWenn, 2007-06-18: 12:22:00
Though I think your pronunciation has one too many syllables. - ErWenn, 2007-06-18: 12:23:00
I fixed the pronunciation guide - thanks! - serendipity9000, 2007-06-18: 12:30:00
----------------------------