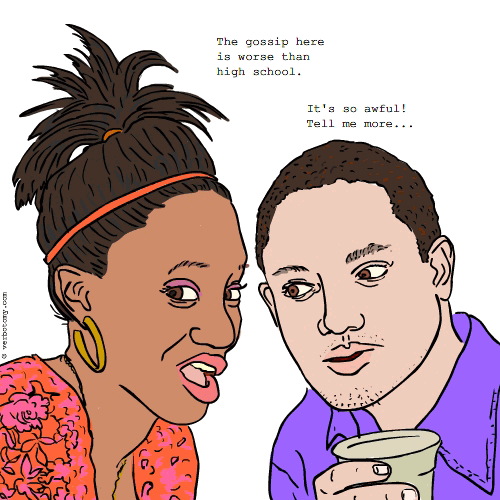 DEFINITION: v. To complain and complain about a problem without ever taking action to correct it. n. A complaint about something which you can fix but choose not to.
Voted For: Rubuxyn
Successfully added your vote for "Rubuxyn".
You still have one vote left...
Created by: loribethinbaltimore
Pronunciation: [hip-oh-fit-a-sizz-um]
Sentence: "Dear Celebrities, I'm sick of the HYPOFITICISM! Just quit having bad relations in public, and we'll will quit with the bad public relations!"
Etymology: Hypocriticism + Having a Fit = Hypofiticism
Created by: Jabberwocky
Pronunciation: long/wine/did
Sentence: The head trader was so longwhineded that the constant cacophony he created garnered him the distinction of being known as a whine expert.
Etymology: long winded (constant) + whine
----------------------------
COMMENTS:
Sometimes i wish I could "trade heads"... - metrohumanx, 2008-08-08: 17:40:00
----------------------------
Created by: ekath
Pronunciation: wall-u-tion
Sentence: Is she actually upset that herc lothes don't match?? ... no, she just picked out clashing clothes this morning because she enjoys walluting
Etymology: from wallow + solution
Created by: Nosila
Pronunciation: bor do whyne
Sentence: They called her Crackling Rosie, because she was the Whine Connoissuer in the office. She would complain about everything, even things she could fix herself. She was also the world's worst gossip. When she was boredowhine, she filled up her chats with actual and perceived items about her co-workers. She met her match though when Rhett Seena joined the staff. He was a way worse whiner and gossip than she. It especially hit her hard when he started inventing gossip about her. The boredowhine became a borderline and had to go off on stress leave.
Etymology: Bored (uninterested because of frequent exposure or indulgence) & o (short for of) & Whine (to complain in a paintive, whining way) & Play on Bordeaux Wine (any of several red or white wines produced around Bordeaux, France or wines resembling them)
Created by: Trystera
Pronunciation: heer-SAY-siss
Sentence: Everyone knew that the walls still contained the original asbestos, but nobody so much as called the Health Department -- it was Somebody Else's Problem to everyone in the company, and thus the matter remained in hearsaysis.
Etymology: Hearsay + stasis -- "hearsay" to imply a denigrating thing that is said, but inadmissable in any official capacity, and thus ultimately useless towards the cause.
Created by: artr
Pronunciation: SUP-wine
Sentence: Why fix a problem when you can supwhine about it?
Etymology: Supine (failing to act or protest as a result of moral weakness) + whine (a feeble or petulant complaint)
Created by: rikboyee
Pronunciation: stag-nan-tag-an-eyes
Sentence: he spent the whole staff meeting stagnantagonising that their staff meetings weren't productive because people spent the whole meeting complaining.
Etymology: stagnant, antagonise, agonise
----------------------------
COMMENTS:
I've been to those meetings. They're usually followed by a wicked case of staff infractions. - purpleartichokes, 2007-06-15: 09:45:00
----------------------------
Created by: artr
Pronunciation: fəsərjē
Sentence: In a case of fussargy Alan complained that somebody had left the Xerox machine void of paper despite the fact that a pack of paper is sitting on the shelf next the copier. At that point he returned to his office leaving it just the way he found it.
Etymology: fuss (show unnecessary or excessive concern about something) + lethargy (a lack of energy and enthusiasm)
Created by: rephil
Pronunciation: stat-us-KWOT
Sentence: The number of people who statusquote this place without citing their sources is remarkable.
Etymology: status quo -- (idiom, Latin) unchanging state of affairs; to quote -- to restate
----------------------------
COMMENTS:
The etymology is difficult, because it becomes so circular one gets dizzy -- status = state, quote = restate, but quote comes from quo, I believe... AARG, the irony! - rephil, 2007-06-15: 10:13:00
I like your thinking on this one. - petaj, 2007-06-15: 21:15:00
----------------------------
Created by: grasshopper
Pronunciation: stag/knee/ta/ious
Sentence: I can not count how many times a stagnitatious someone has stabbed me in the back;did I tell you about last night?
Etymology: stagnent/stuck, irritate/annoy, ious/pertaining to something = Stagnitatious
----------------------------
COMMENTS:
nice word! adjective rather than verb though - AJR55, 2007-06-15: 12:06:00
keep them coming - nice word - Jabberwocky, 2007-06-16: 00:14:00
opps,sorry bout that and thanks - grasshopper, 2007-06-17: 22:08:00
----------------------------