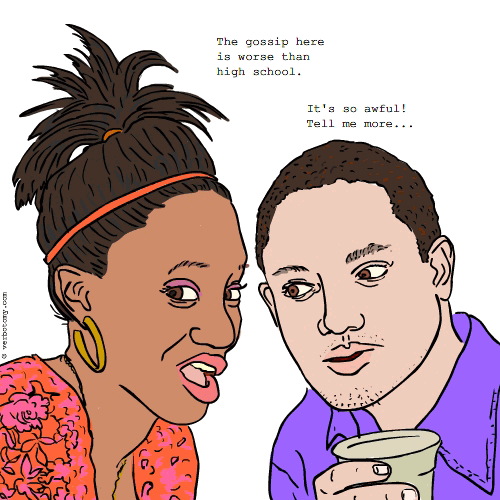 DEFINITION: v. To complain and complain about a problem without ever taking action to correct it. n. A complaint about something which you can fix but choose not to.
Voted For: Hearsaysis
Successfully added your vote for "Hearsaysis".
You still have one vote left...
Created by: ErWenn
Pronunciation: /hɪˈpɑkɹəˌbɪtʃ/
Sentence: We all hypocribitch sometimes.
Etymology: From hypocrite + bitch
----------------------------
COMMENTS:
usually while playing a game of hypocribbage - galwaywegian, 2007-06-15: 06:08:00
Must be the Season of the Bitch. (Damn this tunacy.) - purpleartichokes, 2007-06-15: 09:41:00
----------------------------
Created by: ohwtepph
Pronunciation: fuhs-sloth
Sentence: She's such a fussloth. She complains about workplace obscenity just to score with the boss while wearing that thong and miniskirt to work.
Etymology: fuss [complain] + sloth [a lazy person] + slut [I just felt like it was an important part of the etymology] :D
Created by: petaj
Pronunciation: ide-l-wine
Sentence: MEMO To: All Staff From: Head Honcho OK you horrible lot, I'm sick and tired of your idlewhines. It makes this company look unprofessional. You are a lazy bunch of no goods who can't be bothered to extract a digit now and then and fix things up. If I can find enough time next year, we'll see about maybe hiring an insultant to deal with this poor behaviour. But for now, I can't find the time to address this problem, so you'll just have to put up with your gripes.
Etymology: idle + whine
----------------------------
COMMENTS:
Idlewhine, idlewhine, every morning you greet me ... - petaj, 2007-06-15: 06:03:00
Oh, I see you've joined the Pick on Purple club. May the Blossom of Snow that grows in your back yard be attached to 3 shiney leaves. - purpleartichokes, 2007-06-15: 06:22:00
(bloom and grow foreeeever...) - purpleartichokes, 2007-06-15: 06:38:00
You won't find any blossoms of snow in my backyard. Subtropical rainforest is more likely. (Small and white, clean and bright.. ) - petaj, 2007-06-15: 21:08:00
Poison iv-y-y-y-y, poison iv-y-y-y-y Late at night while you're sleepin' poison ivy comes a'creepin' - Jabberwocky, 2007-06-16: 00:12:00
----------------------------
Created by: Pythias
Pronunciation: k-vetch-klatsch
Sentence: Not to be remedied, but to be savoured, the highlight of their day was a veritable kvetchklatsch.
Etymology: kvetch - klatsch
Created by: Katisms1
Pronunciation: wine-ER-sha
Sentence: Having perfected the fine art of complaining about everything and solving nothing, she could have run for Governor of the state of whinertia -- and won in a landslide.
Etymology: whine (and/or whiner) + inertia
Created by: Alchemist
Pronunciation: Kvech-twen-tee-too
Sentence: There was only one kvetch, and that was KvetchTwentyTwo. When Woesarrian started complaining about all the complaining going on, he realized that his liver was never going to heal.
Etymology: Kvetch (complain incessantly) + Catch22
Created by: jonique
Pronunciation: Die-ah-ree-ah-ov-the-mow-th
Sentence: Karen constantly suffers from diarrheaofthemouth whenever company comes over.
Etymology: Derived from the words diarrhea, meaning well you know. And from the words of, the, and mouth. This is pretty self-explanatory.
----------------------------
COMMENTS:
Commonly known as verbal diarrhoea. - petaj, 2007-06-15: 21:05:00
----------------------------
Created by: AJR55
Pronunciation:
Sentence: All she did was megawhinge about her homework, but she never actually started it...
Etymology: mega - big, huge whinge - moan (as in complain), whine
----------------------------
COMMENTS:
great start AJR55 - Jabberwocky, 2007-06-16: 00:15:00
----------------------------
Created by: surdut
Pronunciation:
Sentence: Her friends tired of her rewhining about her boyfriend, so they sent her to a shrink in hopes that she would move forward.
Etymology:
Created by: abrakadeborah
Pronunciation: Dro-ma-scret
Sentence: Shelia whispered a "dramascret" to me and made me promise not to tell anyone. She was so dramatic that I thought to myself...hmmmm, OH! I must know more of her secret gossip. She always does this expecting different results. If she only would keep her dramascret's to herself,he thought,then he wouldn't be wasting his coffee break on such drivel.
Etymology: Dramatic and secret gossip