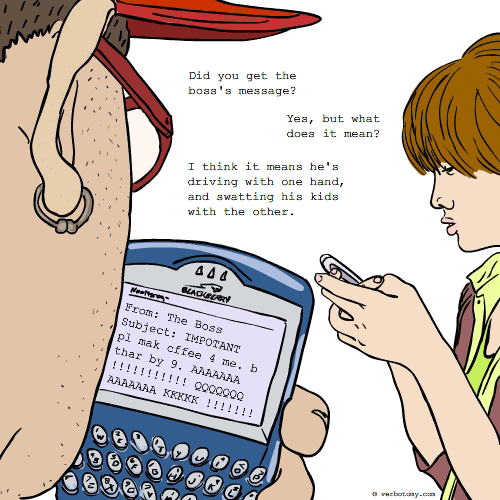 DEFINITION: v., To grasp the meaning of muddled texts like blog posts, emails and text messages where standard grammatical or spelling conventions have been ignored. n., The ability to read and understand confused or poorly written messages.
Already Voted
Vote not counted. We have already counted two anonymous votes from your network. If you haven't voted yet, you can login and then we will count your vote.
---
Txtstand
You still have one vote left...
Created by: zxvasdf
Pronunciation: Qwert lyze
Sentence: Because in this day and age people are wont to multitask, as showcased in the common combination of driving and texting, more and more people are becoming skilled in qwertlysis. The same mental processes are also applied to old timers trying to qwertlyze the newfangled 'net jargon floating about on the web.
Etymology: Qwerty (traditional configuration of the keyboard designed in the days of typewriters to spread apart the commonly used letters, thus preventing jamming. This configuration is not necessary in the digital age) & analyze (to examine methodically by separating into parts and studying their interrelations)
----------------------------
COMMENTS:
interesting etymology - Jabberwocky, 2008-10-14: 13:20:00
----------------------------
Created by: garythesnail
Pronunciation: Slu-text-i-zhion
Sentence: When her husband sent her an IM, Jane said 'What is this?' Her husband said I have slatextion. It says: Get eggs, coffee and milk at the store, please.
Etymology: Slang+text+suffix "ition"
Created by: astorey
Pronunciation: get-a-bite
Sentence: Tess thought she could multitask, but alas, as with so many people, she was not as good as she thought. She would send frequent getabytes to her friends, her husband and the random work contact who was unfortunately positioned at the top of her contact list. While those close to her were able to interpret her getabytes correctly, her colleague could never figure out if Tess was hitting on him or trying to turn him into her personal concierge. Either way, he wasn't into her.
Etymology: To "get" as in both to receive and to understand+ "byte" as in the increment of data, combined to sound like gigabyte or another of the many byte words they make up these days.
----------------------------
COMMENTS:
Yes, we have the technology...we just don't know how to use it correctly! - Nosila, 2008-10-14: 20:10:00
----------------------------
Created by: hendrixius
Pronunciation: dee-sibe-fur-ing
Sentence: I am having trouble decybphering this text message; WTF does MLFJJUICK 4 NOLK mean?
Etymology: decipher and cyber
Created by: Stevenson0
Pronunciation: tex/hume
Sentence: His job was to texhume cryptic messages that had been buried in emails.
Etymology: TEXHUME - verb from TEXT (a unit of connected writing) + EXHUME (to revive, or restore; bring to light)
----------------------------
COMMENTS:
Good word - Nosila, 2008-10-14: 20:14:00
----------------------------
Created by: looseball
Pronunciation:
Sentence:
Etymology:
Created by: Jabberwocky
Pronunciation: text/cav/ay/tor
Sentence: When archaeologists unearth blackberries in the future they will need textcavators to decipher the messages.
Etymology: excavator + text
----------------------------
COMMENTS:
Cute word...I dig it. - Nosila, 2008-10-14: 20:13:00
----------------------------
Created by: jkernen1
Pronunciation:
Sentence: The jibberish you texted wasn't easy to confunderstand.
Etymology: confuse + understand
Created by: Nosila
Pronunciation: kode depen dent
Sentence: When Marnie's boss acquired a PDA device, she had to transcribe his peculiar messages. She became so good at deciphering his notes that she developed a codedependent ability to read any bizarre messages anywhere and make sense of them. Now she was having trouble going back to reading books with straightforward language...they were no longer a challenge to her intellectually.
Etymology: Code (a coding system used for transmitting messages requiring brevity or secrecy;a process to convert ordinary language into code and vice-versa & Dependent (of a clause; unable to stand alone syntactically as a complete sentence) & Wordplay on Co-Dependent (mutual dependence)
Created by: comborracha
Pronunciation: a-sume-a-sife
Sentence: I didn't put enough thought into assumaciphing his message. I didn't realize that "ples get ma bgle t/ cm chee" does not mean please get my mom a bagel with kim chee.
Etymology: assume+decipher