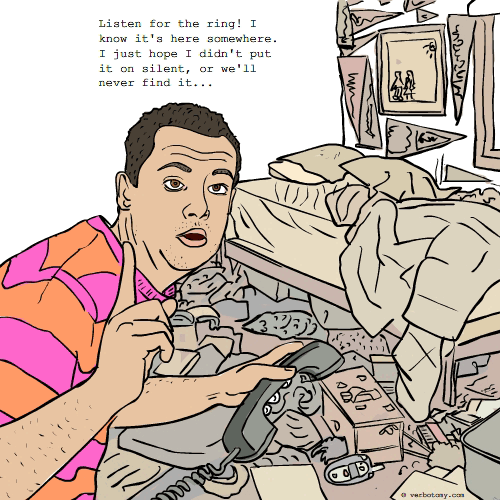 DEFINITION: v., To call your cellphone when you have misplaced it, hoping that it will ring so that you can locate it. n., The sound of a lost cellphone.
Already Voted
Vote not counted. We have already counted two anonymous votes from your network. If you haven't voted yet, you can login and then we will count your vote.
---
Cryptmne
Thanks for voting! You have now used both of your votes today.
Created by: Kyoti
Pronunciation: Black-DING-gull-bare-ree
Sentence: Ricky had to blackdingleberry his smartphone for 15 minutes before he finally found it in his pants pocket, in the laundry bin, in the basement, just before Hildegarde dropped it into the washing machine.
Etymology: Black: as in 'black hole' + Blackberry: a popular cell phone organizer gizmo + Ding: a vague and unspecific ringtone + Dingleberry: what you feel like when you can't find your cell phone.
Created by: ashrogers1734
Pronunciation:
Sentence: I must crypthphon quickly! My phone has been lost for days, try to listen for the ring!
Etymology: Crypth - hidden or secret Phon - sound or telephone
Created by: YourEnglishPal
Pronunciation: nope
Sentence: Finding this cell phone will be an amnegon...
Etymology: MNE- to remember Agon- Struggle "Struggle to remember"
Created by: OZZIEBOB
Pronunciation: dahyl-LOH-keyt
Sentence: A teasing telenigma taunted Bob with the usual "notingaling" when he tried to diallocate and phonepoint his cellphone.
Etymology: 1. Dial & locate. 2. Notingaling (Pr. no-ting-a-ling): The sound of a lost (cell) phone. 3. Phonepoint: Based on phone & pinpoint.
----------------------------
COMMENTS:
I love notingaling - Jabberwocky, 2007-11-09: 09:38:00
Wow, four great words! ...Gets my vote. - Tigger, 2007-11-09: 19:21:00
----------------------------
Created by: Freepiehere
Pronunciation:
Sentence: Finding this phone is going to be a great Chronagon; especially since it's on silent.
Etymology: Chron-Time Agon- Struggle
Created by: irving
Pronunciation:
Sentence: i'm try to find my callphone does anybody find it
Etymology: callphone is when you looking for something but you never find it
----------------------------
COMMENTS:
cool - irving, 2014-04-30: 14:37:00
----------------------------
Created by: looseball
Pronunciation: awe tell me
Sentence: listen I hit the awtellme button
Etymology:
Created by: thebaron
Pronunciation: re-con-nais-cel-ling
Sentence: Jerry lost his phone again... So began the daily reconnaiscelling mission.....
Etymology:
Created by: thegoatisbad
Pronunciation: buz-ter-bay-shon
Sentence: Even though she knew it was a sin to spill her cell on the couch, Kimberly often fell asleep playing snake on her Nokia 5110 while watching Animal Planet. She often woke up and would buzzterbate frantically, searching through layer and layer of snuggie and slanket for the precious piece of pulsating plastic that once saved her life.
Etymology: buzz (to call) + -terbation (well, I'm a little embarrassed to say)
Created by: artr
Pronunciation: fōnär
Sentence: Rudy can usually find his celly by re-tracing his movements. When that fails he resorts to using phonar, calling his cell with his land line assuming he hasn't misplaced the that handset.
Etymology: phone (a system that converts acoustic vibrations to electrical signals in order to transmit sound, typically voices, over a distance using wire or radio) + sonar (the method of echolocation used in air or water by animals such as whales and bats)