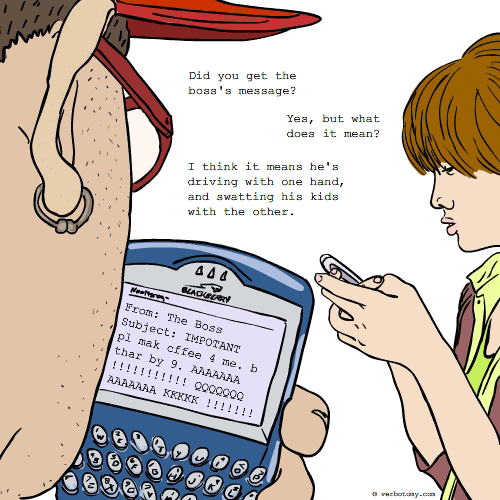 DEFINITION: v., To grasp the meaning of muddled texts like blog posts, emails and text messages where standard grammatical or spelling conventions have been ignored. n., The ability to read and understand confused or poorly written messages.
Already Voted
Vote not counted. We have already counted two anonymous votes from your network. If you haven't voted yet, you can login and then we will count your vote.
---
Geekcoder
You still have one vote left...
Created by: artr
Pronunciation: sīfərfaðəm
Sentence: Harry spent his career breaking coded messages in his job at the NSA. Despite this he has trouble trying to cypherfathom emails and texts from his kids.
Etymology: cypher (a secret or disguised way of writing) + fathom (understand)
Created by: lumina
Pronunciation: jum/bl/gi/a
Sentence: The new boss seemed to have his own language when it came to texting. At first everyone was nervous. It wasn't until someone made a call down to the mailroom where Simon the jumbleguya worked. He could unscramble eggs.
Etymology: play on Jambalaya
----------------------------
COMMENTS:
Twenty lashes with a wet noodle, Lumina. - metrohumanx, 2008-10-14: 02:34:00
Youch! (mix of Yummy and Ouch) :) - lumina, 2008-10-14: 10:04:00
great word - Jabberwocky, 2008-10-14: 13:20:00
----------------------------
Created by: gregflynn
Pronunciation:
Sentence:
Etymology:
----------------------------
COMMENTS:
Noun: Ntrprt8n - gregflynn, 2007-11-15: 00:09:00
----------------------------
Created by: Stevenson0
Pronunciation: tex/hume
Sentence: His job was to texhume cryptic messages that had been buried in emails.
Etymology: TEXHUME - verb from TEXT (a unit of connected writing) + EXHUME (to revive, or restore; bring to light)
----------------------------
COMMENTS:
Good word - Nosila, 2008-10-14: 20:14:00
----------------------------
Created by: Nosila
Pronunciation: geek code er
Sentence: Josh could unravel any online message...he was a geekcoder of the top degree. If he had of lived 60 years earlier, he would have been called (The Man Called Incryted`.
Etymology: Geek (nerd, computer whiz) & Coder (someone who can encrypt/decrypt secret messages) Wordplay on Decoder (translater of encrypted messages)
Created by: purpleartichokes
Pronunciation: text-cra-poh-late
Sentence: Although the message may have been written in Sanskrit, Bob was able to textcrapolate that he was to pk up da kdz aftr wrk.
Etymology: text, crap, extrapolate
----------------------------
COMMENTS:
good one purple - Jabberwocky, 2007-11-15: 08:55:00
Nice bit of cyberdazzle! - OZZIEBOB, 2007-11-15: 17:39:00
y, thnk ya! - purpleartichokes, 2007-11-15: 18:58:00
gets my vote :) - badsnudge, 2007-11-15: 22:25:00
----------------------------
Created by: yaelash
Pronunciation: clear-mext
Sentence: he had very good clearmexting abilities. even when his kid wrote him a note while eating dropping icecream and riding the bike at the same time, he could figure out what was written there.
Etymology: the combination of clear+messy+text, the ability to make a clear text out of a messy one.
Created by: metrohumanx
Pronunciation: dee-JIBBER-cript..........Degibbercrypt is an existing word. (Based a match found for Degibbercrypt found by TheFreeDictionary.)...I find this unlikely, and I stand by my word. -Metro
Sentence: Each dreary morning, Stubbly Stu entered the Temple of Technology where he was employed as an InfoTech specialist. Winter was approaching and the sun's piercing rays bounced off the freshly waxed hallway floors into his tender eyeballs, which had not fully recovered from a gin-soaked weekend of cyber-debauchery. Stunned and amazed, Stubbly Stu saw a cluster of his co-workers gathered in a confused knot and arguing with an intensity usually displayed at a much later, and more humane, time of day. Sookie was waving her Blackberry, Jeff had unholstered his cellfone, and poor low-tech Mark was clutching a crumpled E-mail memo he had printed out, not assigning any reality to something he could not hold in his hand. They all looked up at the same time and saw Stubbly Stu standing there agog. "Stu! Help us!" cried Sookie. "The boss sent out a memo, and we can't figure out if we're all fired or if we're to hurry down to the conference center!" The boss, newly arrived from Red China, stubbornly refused to learn more than the rudiments of Engrish, and regarded punctuation and spelling as a capitalist plot intended to make her "lose face". "Stand back, folks!" Stubbly Stu said with a flourish..." I'm going to DEGIBBERCRYPT this message RIGHT NOW!".....and so he did. They were all fired. :)
Etymology: Fusion of DECRYPT and GIBBERISH.....DECRYPT:transitive verb -to convert (as a coded message) into intelligible form; to recognize and interpret (an electronic signal).....GIBBERISH:unintelligible or meaningless language; a technical or esoteric language; pretentious or needlessly obscure language often generated by pompous or incompetent pseudotechnocrats who have attained positions of power, or think they have.
----------------------------
COMMENTS:
A mind is a terrible thing. http://www.nsa.gov/MUSEUM/ - metrohumanx, 2008-10-14: 02:40:00
Eggzellint! - Mustang, 2008-10-14: 17:21:00
Great story and word! - Nosila, 2008-10-14: 20:15:00
----------------------------
Created by: Nosila
Pronunciation: kode depen dent
Sentence: When Marnie's boss acquired a PDA device, she had to transcribe his peculiar messages. She became so good at deciphering his notes that she developed a codedependent ability to read any bizarre messages anywhere and make sense of them. Now she was having trouble going back to reading books with straightforward language...they were no longer a challenge to her intellectually.
Etymology: Code (a coding system used for transmitting messages requiring brevity or secrecy;a process to convert ordinary language into code and vice-versa & Dependent (of a clause; unable to stand alone syntactically as a complete sentence) & Wordplay on Co-Dependent (mutual dependence)
Created by: Stevenson0
Pronunciation: tex/hume
Sentence: His job was to texhume cryptic messages that had been buried in emails.
Etymology: text + exhume
----------------------------
COMMENTS:
K-rad ! c u l8r - OZZIEBOB, 2007-11-15: 17:37:00
----------------------------