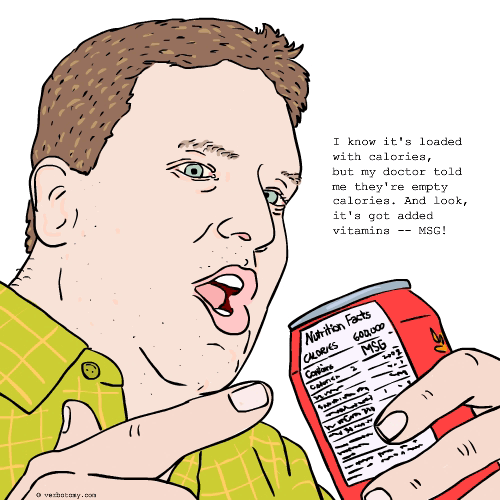 DEFINITION: n. Any highly-processed food or beverage in which the natural ingredients have been removed and replaced with artificial flavors and additives. v. To consume food products laced with synthetic sweeteners, imitation flavors, and other carcinogens.
Voted For: Artisinful
Successfully added your vote for "Artisinful".
You still have one vote left...
Created by: Jabberwocky
Pronunciation: haul/oh/gram/crak/urs
Sentence: Whenever Sally got the urge to binge she would reach for the hollowgramcrackers which promised great taste and if you turned in just the right direction any extra weight would magically disappear.
Etymology: hollow + hologram + graham crackers
----------------------------
COMMENTS:
Classic! LOL - GlobalGallery, 2009-01-29: 06:52:00
Distortion in 3D....doesn't get any easier than that! - Mustang, 2009-01-29: 07:45:00
great choices for your etymology - silveryaspen, 2009-01-29: 08:27:00
And then there are the hallowedgramcrackers which you can eat and receive forgiveness for eating... - readerwriter, 2009-01-29: 11:27:00
holy **** reader - never thought of that - enlightening - Jabberwocky, 2009-01-29: 11:52:00
And if you tried to stop eating them, you'd have to hallowed wean them! - Nosila, 2009-01-29: 19:45:00
----------------------------
Created by: Xanman12321
Pronunciation: Uhn-heff-dait
Sentence: Wow, those potato chips were unhefdites, you know? Oops, I unhefdited! Uh oh...
Etymology: Unhealthy diet -> Unhefdite
Created by: readerwriter
Pronunciation: mis-treet-z
Sentence: Esau, who always chose the quick and easy way to get his food, grew fat in the land on his convenient die-et of mystreats.When he suddently departed this life from cardiac arest, his secondary cause of death was listed as "mystreatment." Full stop.
Etymology: From MYSTERY, things unexplainable + TREATS, small pleasures; also playing on MISTREAT, to misuse, abuse
Created by: TJayzz
Pronunciation: Al-a-cart-i-fish-ull
Sentence: Tom always used the alacartifcial way of dining, he would gorge on anything that included MSG or had been synthetically altered in some way. Being only twenty-one he didn't think of what this might be doing to the state of his health a few years down the line.
Etymology: A la carte(a type of menu) + Artificial(contrived or affected) = Alacartificial
----------------------------
COMMENTS:
well-crafted word - silveryaspen, 2009-01-29: 08:34:00
----------------------------
Created by: Nosila
Pronunciation: bad it tiv
Sentence: Sidney ate processed foods everyday and was concerned that they had all had a badditive component to them. His first clue should have been in some of their brand names:E-Cola, Tinned Salmon Ella and Canned Ptomainetoes...
Etymology: Bad (not good, not safe nor edible) & Additive (something added to enhance food or gasoline or paint or medicine)
Created by: splendiction
Pronunciation: junkfeed
Sentence: Jim began junkfeeding as a child. As a young adult he consumed his favourite, seriously overprocessed, junkfeed in quantities disproportionate to his energy needs so that he became unhealthy. His doctors warned him to avoid the common, easy to reach, junkfeed and return to a simpler diet rich in real food. Jim learned what real food is but unfortunately couldn't find real foods around him...
Etymology: junkfeed v and n. from junk or useless stuff/what has no purpose and the verb feed, for an organism's tendency to eat for necessity and not the enjoyment of food
Created by: Stevenson0
Pronunciation: gross/cer/ees
Sentence: When John goes shopping for food, he fills his cart with grossceries with zero to no nutritional value such as sham spam, potato hydrogenated artery filler, cancerspartan sweetened pop, hot (cow eyes, teeth and skin) dogs, mock chicken (wrack of rat) and Wonder enriched bread (less than 50% wood chips and white drywall dust).
Etymology: GROSSCERIES - noun - from GROSS + GROCERIES
----------------------------
COMMENTS:
So apt! - silveryaspen, 2009-01-29: 08:26:00
like it. - galwaywegian, 2009-01-29: 08:53:00
Now I no longer Wonder why they called it Wonder Bread! - Nosila, 2009-01-29: 19:46:00
----------------------------
Created by: kateinkorea
Pronunciation: COE lack
Sentence: One day when I asked her why she always asked me for a colack instead of a cola she said, "You notice how cola sounds so good. Co la la la la...its a happy sound. I call it colack because it lacks anything good." When I asked her why she continued to order them everyday, she said, "I guess I lack good sense."
Etymology: COLA: soda drink LACK: to have none or not enough of something
Created by: artr
Pronunciation: soōdōfoōdō
Sentence: Charlie is a vegetarian at heart. The thought of killing some poor defenseless creature saddens him deeply. When he read about a study that claimed that plants emit a sound much like a scream when picked, he was left in a quandary. What could he eat? His solution? Pseudofoodo! The "O" foods! Munchos, Bunchos, Crunchos, Chunkos, Dunkos. The more processed - the farther away from anything living - the better he likes it. If only those bio-degradable packing peanuts had a little cheese or onion flavoring. If only he had the energy to go to the gymo to work off some of his flabo.
Etymology: pseudo (not genuine; sham) + food (any nutritious substance that people or animals eat or drink) + "O" for the O foods.
----------------------------
COMMENTS:
Oh! Oh! So good! - silveryaspen, 2009-01-29: 08:35:00
too true - Jabberwocky, 2009-01-29: 09:42:00
----------------------------
Created by: abrakadeborah
Pronunciation: ar-ti-sin-ful
Sentence: Carl started every day with a sugary cola even though he knew it was artisinful and causing him to lose his teeth.
Etymology: Arti- Taken in part of artificial - Made by humans; produced rather than natural. Sinful- To do wrong or characterized by or being a sin.
Voted For! | Comments and Points