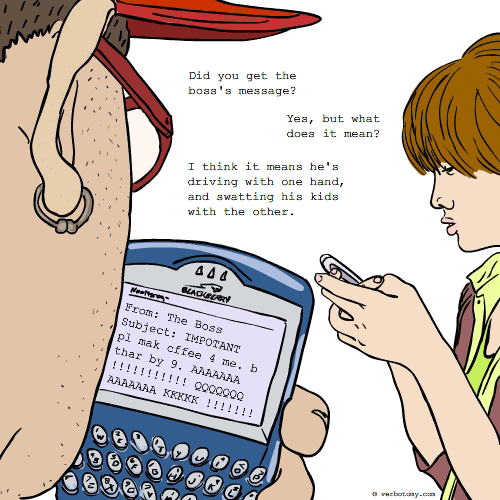 DEFINITION: v., To grasp the meaning of muddled texts like blog posts, emails and text messages where standard grammatical or spelling conventions have been ignored. n., The ability to read and understand confused or poorly written messages.
Voted For: Dyslexicon
Successfully added your vote for "Dyslexicon".
You still have one vote left...
Created by: Mustang
Pronunciation: gob-uhl-deh-kook
Sentence: Fenster is an absolute gobbledekook who can instantly decipher the garbled lingo used by those who textmessage and post on blogs and forums.
Etymology: Blend of 'gobbledegook' (language characterized by circumlocution and jargon, usually hard to understand) and 'kook' (an eccentric, strange, or foolish person)
----------------------------
COMMENTS:
Love that jargon, Mustang! http://www.pacifier.com/~dkossy/kooksmus.html - metrohumanx, 2008-10-14: 02:33:00
----------------------------
Created by: yaelash
Pronunciation: clear-mext
Sentence: he had very good clearmexting abilities. even when his kid wrote him a note while eating dropping icecream and riding the bike at the same time, he could figure out what was written there.
Etymology: the combination of clear+messy+text, the ability to make a clear text out of a messy one.
Created by: emilylind
Pronunciation: Say jumble then reader
Sentence: He's a amazing jumblreader !
Etymology:
Created by: sipsoccer
Pronunciation: (Text-a-ty-tus)
Sentence: What the heck? You got textititis or something? I can't read your texts.
Etymology: Text: what you do or see. ititis: diseased
Created by: Jabberwocky
Pronunciation: text/cav/ay/tor
Sentence: When archaeologists unearth blackberries in the future they will need textcavators to decipher the messages.
Etymology: excavator + text
----------------------------
COMMENTS:
Good Usage. - dubld, 2007-11-15: 12:46:00
Great word and real cyberwocky! - OZZIEBOB, 2007-11-15: 17:36:00
----------------------------
Created by: verbotomer
Pronunciation: ˈiːˌdjuːs
Sentence: "I educed that he meant, 'see you later' when he sent, 'cUL8rrrr11111!!!'"
Etymology: similar meaning to the original educe, but with the stress on the first syllable, modelled on Internet-related words such as email, ebusiness, etc. It can also be spelled 'e-duce'.
Created by: QuantumMechanic
Pronunciation: dee lee' ted
Sentence: I deleeted Joe's text: he's driving and texting again.
Etymology: de (undo, as a process) + leet (from l33t)
Created by: Tigger
Pronunciation: sĭn-těks-tə-fī'
Sentence: After only two weeks of dating, Melissa was able to syntextify Jared's messages by supplementalizing them with proper grammar and spelling. She supposed it was worth the effort -- all the other girls thought Jared was cute, and he certainly was popular.
Etymology: syntax (Greek, syntaxis "a putting together or in order") + text (Late Latin, textus "written account") + [identi]fy (Medieval Latin, identificāre "to make to resemble")
Created by: comborracha
Pronunciation: a-sume-a-sife
Sentence: I didn't put enough thought into assumaciphing his message. I didn't realize that "ples get ma bgle t/ cm chee" does not mean please get my mom a bagel with kim chee.
Etymology: assume+decipher
Created by: artr
Pronunciation: sīfərfaðəm
Sentence: Harry spent his career breaking coded messages in his job at the NSA. Despite this he has trouble trying to cypherfathom emails and texts from his kids.
Etymology: cypher (a secret or disguised way of writing) + fathom (understand)