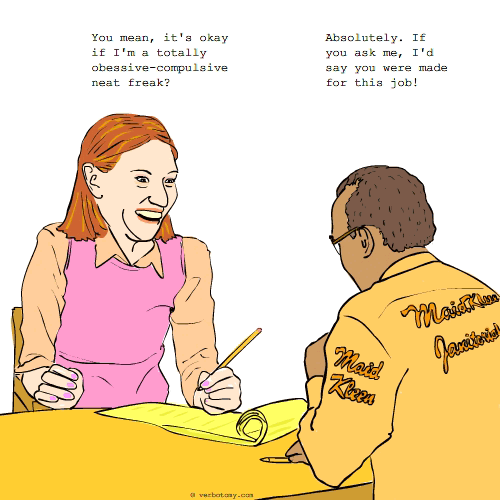 DEFINITION: v. To suddenly discover that your most troublesome personality defect, for which you have been taking medication and/or therapy, is actually your greatest asset. n. A perceived weakness which is actually a strength.
Voted For: Foibility
Successfully added your vote for "Foibility".
You still have one vote left...
Created by: jadenguy
Pronunciation: luk jaa
Sentence: His inability to talk made him a great grief counciler. His success rate was nearly 87%, with comment cards lauding his ability to listen.
Etymology: lockjaw + luck
Created by: kirkaw
Pronunciation: traw-maze
Sentence: When Michael's obnoxious outburst at the Marsha resulted in her quiting the next day, to the delighted of the rest of the office staff, he was simply traumazed at himself.
Etymology: trauma - amazed
Created by: Lapper
Pronunciation: pro-FEKT-ihv
Sentence: John was found to be quite profective when his lack of heart permitted him to be one of the country's top assassins.
Etymology: The prefix "pro-" and "defective".
Created by: galwaywegian
Pronunciation: han dee kap
Sentence: at the Outside the Box employment agency they help change a handicap to a handycap, one person's OCD sufferer is another person's cleaner/office manager/proof reader.
Etymology: handicap, handy
----------------------------
COMMENTS:
love it - remistram, 2007-06-25: 14:37:00
Voted! - Clayton, 2007-06-25: 21:15:00
----------------------------
Created by: AliA415
Pronunciation: Mer-to-gram
Sentence:
Etymology:
Created by: Clayton
Pronunciation: fawl-TIL-i-tee
Sentence: Madeline's faultility was her incessant nose-blowing. Her husband thought of divorcing her, but she was such an amazing duck call.
Etymology: fault + utility
Created by: Msumida
Pronunciation: Replace the w in worse with bl.
Sentence:
Etymology: Combination of "blessing" and "curse" from the the saying, "It's a blessing and a curse."
Created by: andrewa121
Pronunciation: "that's it insane"
Sentence: After interviewing candidate after candidate for our unique position, we finally found one who was thatsitinsane. Her quirks were perfect in every way.
Etymology: from "that's it", an epiphanic phrase, and insane, denoting a tenuous relationship with the rational. cf. "bat shit insane".
Created by: rikboyee
Pronunciation: han-dee-capp
Sentence:
Etymology: handy, handicap
----------------------------
COMMENTS:
Very apt and capped a good day's verboting. - scrabbelicious, 2009-07-31: 15:22:00
Nice Flo to it! - scrabbelicious, 2009-07-31: 15:24:00
----------------------------
Created by: remistram
Pronunciation: fawlt-it-tood
Sentence: She displayed her stalking practices daily with her staff, sneaking up behind them, checking her watch each time she saw them away from their cubicles chit chatting with coworkers. This behaviour became her faultitude and discovered she should become a private investigator.
Etymology: fault (flaw, imperfection) + fortitude (mental and emotional strength when facing difficulty, adversity)