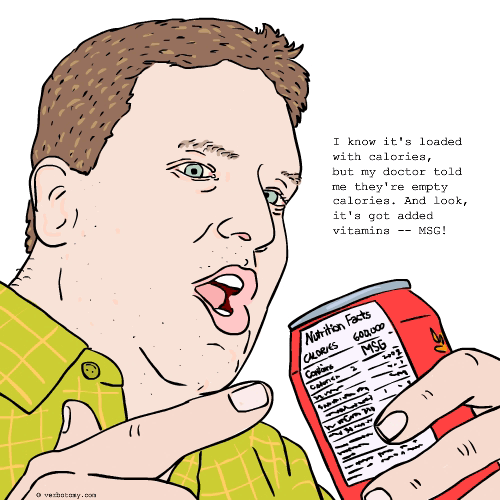 DEFINITION: n. Any highly-processed food or beverage in which the natural ingredients have been removed and replaced with artificial flavors and additives. v. To consume food products laced with synthetic sweeteners, imitation flavors, and other carcinogens.
Already Voted
Vote not counted. We have already counted two anonymous votes from your network. If you haven't voted yet, you can login and then we will count your vote.
---
Grossceries
You still have one vote left...
Created by: metrohumanx
Pronunciation: PICK-one-TOCKS-ih-fodder
Sentence: Chuck planted his corpulent posterior in the orange naugahide chair and settled down to his first day at the new job. Thankful to be employed, he relished his new assignment at Universal Test Kitchens...sampling and rating new food products before they were foisted upon the unsuspecting public.Being a true foodlum, he had quaffed, chomped, swigged and munched through an array of buyprodux, each containing an ersatz nutritute carefully engineered from corn syrup and cheap tropical fat. Some dishes were trendylicious and pungent, others had all the appeal of a used bovine salt lick. It wasn't until the late afternoon when Chuck found his favorite concoction. It was real PIQUANTOXIFODDER - stripped of any wasteful vitamins, yet replete with satisfying textures that reminded him of that strangest of foods- tapioca. After secretly cramming down his third helping, Chuck succumbed to a case of megacramps that a gallon of peptodismall wouldn't cure. On the way home, he had to pull over discreetly near an irrigation ditch and make a contribution.Plop Plop Fizz Fizz. Sweating like a cut of rancid pork, Chuck knew that the product he ingested was sure to be a great seller. It was....ambrosia!
Etymology: PIQUANt+TOXIc+FODDER=PIQUANTOXIFODDER.....PIQUANT:agreeably stimulating to the palate,engagingly provocative taste;Middle French, from present participle of piquer.....TOXIC:containing or being poisonous material especially when capable of causing death or serious debilitation,extremely harsh, malicious, or harmful;Late Latin toxicus, from Latin toxicum poison, from Greek toxikon arrow poison, from neuter of toxikos of a bow, from toxon bow, arrow.....FODDER:something fed to domestic animals ; especially : coarse food for cattle, horses, or sheep,-inferior or readily available material used to supply a heavy demand;Middle English, from Old English fōdor; akin to Old High German fuotar food.....AMBROSIA:the food of the Greek and Roman gods;Latin, from Greek, literally, immortality, from ambrotos immortal.(bonus word)
----------------------------
COMMENTS:
Amusing OLD advertisements: http://www.lileks.com/oldads/index.html - metrohumanx, 2009-01-29: 01:56:00
This space intentionally left blank. - metrohumanx, 2009-01-29: 21:27:00
----------------------------
Created by: otherguy
Pronunciation: soōdapäp
Sentence: Sodapop is bad enough, but substituting artificial flavoring and sweeteners for anything almost natural change it over to pseudapop.
Etymology: pseudo: fake + pop: soda
----------------------------
COMMENTS:
Nice word. - artr, 2009-01-29: 06:11:00
Very good! - Mustang, 2009-01-29: 07:17:00
excellent - Jabberwocky, 2009-01-29: 09:43:00
Perfect fit for word definition good job! :) - abrakadeborah, 2009-04-24: 07:16:00
----------------------------
Created by: Nosila
Pronunciation: bad it tiv
Sentence: Sidney ate processed foods everyday and was concerned that they had all had a badditive component to them. His first clue should have been in some of their brand names:E-Cola, Tinned Salmon Ella and Canned Ptomainetoes...
Etymology: Bad (not good, not safe nor edible) & Additive (something added to enhance food or gasoline or paint or medicine)
Created by: artr
Pronunciation: sinθīəns
Sentence: Some people are drawn to labels like "All Natural" or "No Artificial Ingredients". Not Tim. He just loves his beverages created by synthience.
Etymology: synthetic (made by chemical synthesis) + science (systematic study of the structure and behavior of the physical and natural world through observation and experiment)
Created by: artr
Pronunciation: nil-trish-uhs
Sentence: After years of eating "junk food", Jerry has decides to turn his eating habits around. Now if he is hungry between meals he will reach for a health bar and an energy drink instead of a bag of chips and a soda. His diet is still niltritous but he at least he FEELS better about it.
Etymology: nil (nonexistent, nothing) + nutritious (providing nourishment, especially to a high degree; nourishing; healthful)
Created by: artr
Pronunciation: soōdōfoōdō
Sentence: Charlie is a vegetarian at heart. The thought of killing some poor defenseless creature saddens him deeply. When he read about a study that claimed that plants emit a sound much like a scream when picked, he was left in a quandary. What could he eat? His solution? Pseudofoodo! The "O" foods! Munchos, Bunchos, Crunchos, Chunkos, Dunkos. The more processed - the farther away from anything living - the better he likes it. If only those bio-degradable packing peanuts had a little cheese or onion flavoring. If only he had the energy to go to the gymo to work off some of his flabo.
Etymology: pseudo (not genuine; sham) + food (any nutritious substance that people or animals eat or drink) + "O" for the O foods.
----------------------------
COMMENTS:
Oh! Oh! So good! - silveryaspen, 2009-01-29: 08:35:00
too true - Jabberwocky, 2009-01-29: 09:42:00
----------------------------
Created by: galwaywegian
Pronunciation: sin theh seye dur
Sentence: After fourteen pints of synthecider he was peckish when he got home, so he fired up the microwave and added one of the new meals with food flavouring, before settling down for a video and a cuddle with inflatable Isabelle.
Etymology: synthesizer cider
----------------------------
COMMENTS:
Great sentence! Will long remember "food flavoring" - silveryaspen, 2009-01-29: 08:25:00
fun to say - Jabberwocky, 2009-01-29: 09:44:00
Sintheresting word!! - Nosila, 2009-01-29: 19:41:00
----------------------------
Created by: GlobalGallery
Pronunciation: korn - fayks
Sentence: Willie was up at dawn to log on as his Dwarf Troll avatar in the online world of Demon-Realm. He had no real friends so he immersed himself in an artificial reality as often as he could. He liked a bowl of Cornfakes in the morning. The flavour burst of acesulfame-K and the crunchy goodness of butylated hydroxytoluene gave him the energy for hours of unbridled slaying.
Etymology: 1.cornflakes - a popular cereal made by Kellogs 2.fakes - goods that are not genuine.
----------------------------
COMMENTS:
very tasty! - galwaywegian, 2009-01-29: 06:46:00
I saw the Cornfakes beside the Raisin Banned Flakes, Mice Krispies and Loco Puffs at Safeway! - Nosila, 2009-01-29: 19:50:00
----------------------------
Voted For! | Comments and Points
Created by: chaiandallthatjazz
Pronunciation: veye-tuh-min-o-jen
Sentence: "All I gotta do is pop this here vitaminogen into some water, stir 'er, and I'll be all set for the day. Forget the gatorade and microwave dinners. This here is the best thing since sliced bread," exclaimed Bobby Joe.
Etymology: vitamin (n.organic components in food that are needed in very small amounts for growth and for maintaining good health; n.nutritional supplement) carcinogen (cancer causing agent)
Created by: Nosila
Pronunciation: bad dit tiv
Sentence: One day when Chad was told by his doctor to watch what he consumed, he started reading the labels. He was amazed to see all the badditives placed in his food and drink. Latin-sounding, unpronounceable names, sinister sounding words and all the ingrediants were at least 15 letters long. Every badditive was making the Chadditive both sadditive and madditive!
Etymology: Bad (that which is below standard or expectations as of ethics or decency; capable of harming;reproduced fraudulently) & Additive (something added to enhance food)