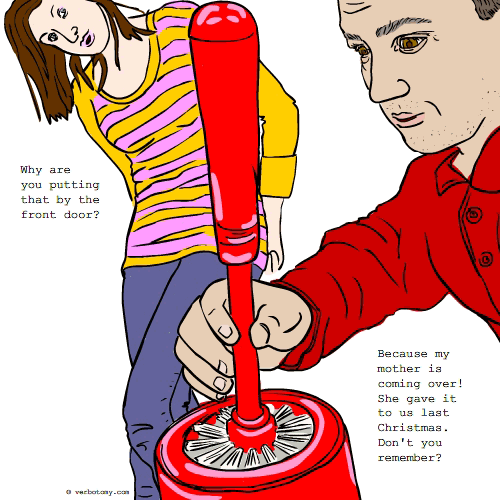 DEFINITION: n., An ugly decorative item or article of clothing received from friends or relatives, which is kept stored away but ready to be pulled out at a moment's notice in anticipation of a return visit. v., To temporarily place an old, and perhaps unattractive gift in a place of honor.
Voted For: Horroronour
Successfully added your vote for "Horroronour".
You still have one vote left...
Created by: Mustang
Pronunciation: juhnk-re-duks
Sentence: Nathan employed a sneaky program of junkredux wherein he would put trashy gifts on prominent display when the givers would visit, the ghastly dragon head lamp his mother had given him for Christmas being the most notable example.
Etymology: Blend of 'Junk'(n. something of poor quality : trash) and 'redux' (adj brought back —used postpositively)
Created by: Carla
Pronunciation: dis-gwift
Sentence: Mary smiled through gritted teeth as she opened the box containing Aunt Sally's latest knitted monstrosity. The crocheted trousers would be consigned to the disguift drawer immediately.
Etymology: disgust + gift
Created by: petaj
Pronunciation: horror-on-er
Sentence: Holly hauled the horrific heirloom out of the house and secreted it behind a heavyduty tarpaulin in the shed. She felt sure that Granny, at 94, would surely not live to see out another Christmas. This was likely the last time she would have to horroronour the hand-carved horologue.
Etymology: horror + honour
----------------------------
COMMENTS:
Hysterical :-) - emdeejay, 2008-12-16: 05:39:00
----------------------------
Voted For! | Comments and Points
Created by: bzav1
Pronunciation: kin - shee
Sentence: We had to put out several of the kinschy gifts my family had given to us over the years before they arrived over the holidays.
Etymology: kin + Kitschy
Created by: abrakadeborah
Pronunciation: Fug-lee-thing
Sentence: Such a fugglything you got for Christmas...Be more specific of what you put on your wish list.
Etymology: Fuggly; Effing UGLY! :) Thing; An object that cannot be named specifically.
----------------------------
COMMENTS:
Welcome back...tried voting for you, but there was no "Vote for" prompt??? - Nosila, 2009-12-18: 01:20:00
----------------------------
Created by: andrian
Pronunciation: blos-ta-tiz
Sentence: The man in the picture is blostatizing a toilet scrubber.
Etymology: This is the verb form. The noun is blostate.
Created by: Nosila
Pronunciation: tres shured pest
Sentence: It all started when Fred's father was in prison and made everyone items in the woodshop for Christmas. Most of the family got normal, carved items, like ducks or horses or dogs. But lucky Fred was given a large whittled evil-looking rat. It's beady eyes followed you around the room and the little kids were scared of it. When his Dad was paroled, he came each major holiday to visit with Fred and his family, and they would have to dig out "You dirty rat" as it became known to proudly display on the mantle. Fred's wife was afraid to dust it and it became a treasuredpest, much to the smug laughter of other family members. They all knew Fred got the treasuredpest because he had been the one to phone Crimestoppers and turn in the old man for passing counterfeit money in the first place. So much for anonymity!
Etymology: Treasured (something valued or feeling fondness for) & Pest (something persistently annoying) & Play on term Treasure Chest (a chest filled with valuables)
Created by: theCountess
Pronunciation: Doo-Dud
Sentence: Carol dreaded receiving and being obliged to display yet another ugly doodud from her mother-in-law.
Etymology: Doodad + Dud
Created by: Jabberwocky
Pronunciation: in/tens/gift/fie
Sentence: Quick, we'd better intensgiftfy the weeping madonna by taking her out from behind the couch and seating her at the table.
Etymology: intensify + gift
Created by: TJayzz
Pronunciation: i-store
Sentence: When Dave's Auntie Joan had given him the hideous orange and green vase for Christmas last year he smiled broadly and thanked her very much telling her it was beautiful. However as soon as she had left he wrapped up the eyestore and put it straight into the loft. Auntie Joan is due to visit again this year on christmas day, so the plan is to get in the loft on Christmas eve and put the offending object in pride of place on the mantlepiece in the hope that it fools her into thinking that it has been there all year.
Etymology: Play on Eyesore