Verboticism: Afflictscussion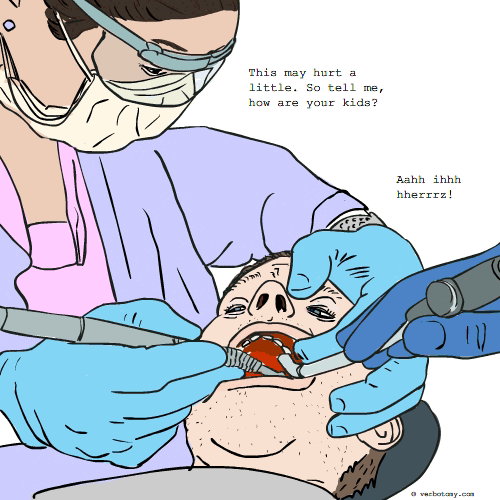 DEFINITION: n., Forced small talk used by professional caregivers to put patients at ease. (Not usually effective.) v., To ask insipid questions while subjecting a person to an intimate, awkward or painful procedure.
Already Voted
Vote not counted. We have already counted two anonymous votes from your network. If you haven't voted yet, you can login and then we will count your vote.
---
Afflictscussion
You still have one vote left...
Created by: TheFlawlessWord
Pronunciation:
Sentence: "Beware the Jabbertalk, my twit! The hose that sucks, the drills that buzz! Beware the dental bird, and spit The voluminous cottonmouth fuzz!"
Etymology: Apologies to Lewis Carroll
Created by: galwaywegian
Pronunciation: sp latt ur patt ur
Sentence: She engaged in constant splatterpatter, interjecting euphemisms and repatree through the constant stream of gristle and gore
Etymology: patter, splatter
Created by: mrskellyscl
Pronunciation: spit-chat
Sentence: Harold hated having to spitchat with the dentist when he had a mouth full of drool from novicaine and dental instruments jammed under his gums.
Etymology: wordplay on chitchat: an informal conversation
Created by: Jpwareham
Pronunciation: Shi/ber/ism
Sentence:
Etymology: Shi-random,berism- type of gibberous
Created by: KatieG
Pronunciation: jaw-do-lat-shon
Sentence:
Etymology:
Created by: porsche
Pronunciation: man/dri/vel
Sentence:
Etymology: mandible (jaw bone) + drivel
Created by: thebaron
Pronunciation: driv-a-leck
Sentence: I sat there helpless, having to listen to my dentist's drivelect for hours!
Etymology:
Created by: idavecook
Pronunciation:
Sentence:
Etymology:
Created by: touch72
Pronunciation:
Sentence:
Etymology:
Created by: FayeWord
Pronunciation: an-ti-ease
Sentence: The obgyn's kind and gentle words before the examination were all antiease.
Etymology: Against feeling at ease.