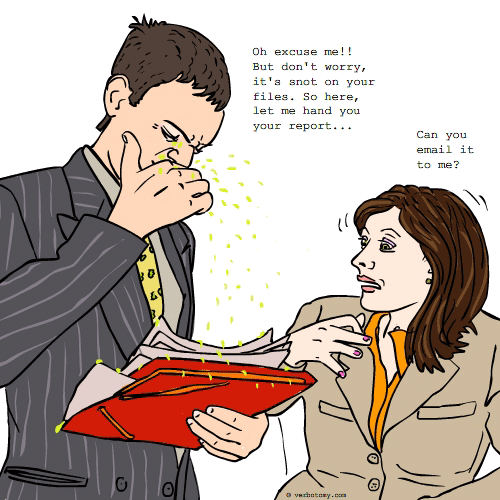 DEFINITION: v. To be so hardworking and dedicated to your job that you come to work even when you're sick and dangerously infectious. n. A person who comes to work sneezing, coughing, contagious, and sick as a dog.
Already Voted
Vote not counted. We have already counted two anonymous votes from your network. If you haven't voted yet, you can login and then we will count your vote.
---
Jobsicksess
You still have one vote left...
Created by: galwaywegian
Pronunciation: emp loii eee bow lah
Sentence: the employeebola flu from dest to desk, with germoronic zeal, passing documents and bodily fluids with an apostolic zeal.
Etymology: ebola employee
----------------------------
COMMENTS:
terrific - sorry I didn't see this yeterday - Jabberwocky, 2008-05-08: 05:57:00
oops - yesterday - Jabberwocky, 2008-05-08: 05:57:00
----------------------------
Created by: Jabberwocky
Pronunciation: co/hork/ur
Sentence: Spu Tum was a stalwart cohorker who never missed a day and left his mark on any work or worker he touched.
Etymology: co-worker + hork (as in hork up phlegm)
----------------------------
COMMENTS:
I've worked with him...good word! - Nosila, 2009-06-19: 13:05:00
----------------------------
Created by: Stevenson0
Pronunciation: job/sick/sess
Sentence: John is a workaholic determined to become CEO before he's forty. He comes to work no matter his illness. This lends to his rising star success, but to his co-workers, John's jobsicksess means they'll probably catch the swine flu, or other disease from him.
Etymology: job + sick + obsess; j + obsess = jobsess + sick = jobsicksess
----------------------------
COMMENTS:
Sicksessful word! - Nosila, 2009-06-19: 13:03:00
good one - Jabberwocky, 2009-06-19: 13:40:00
----------------------------
Created by: Tigger
Pronunciation: /staf-luh-KOK-ee/ (like 'staphylococci')
Sentence: George really believed that the office couldn't function without him, so he came into work every day, even with a raging respiratory infection. He was so stafflococky that he infected everyone else in the office, and then he had to try to manage when they all called in sick. After several days of that, he threatened to resign because, he claimed, his co-workers were just a bunch of wimps. Also, he suspected that they were conspiring against him by using their sick days all at the same time, because they were jealous of his superior work ethic.
Etymology: Blend of: Staff (as in 'office staff') & Staphylococci - plural of staphylococcus, a variety of infectious bacteria (from Greek, staphyle "bunch of grapes" & modified Latin, coccus "spherical bacterium") & Cocky - overly self-assertive or arrogant (from Old English, cocc; nickname for "one who strutted like a cock")
----------------------------
COMMENTS:
Great one! - pieceof314, 2008-05-07: 08:44:00
excellent - Jabberwocky, 2008-05-07: 11:38:00
----------------------------
Created by: mweinmann
Pronunciation: werk - hors
Sentence: Jeremy was a real workhoarse. He often came to work hacking, coughing, sneezing and hoarse to the point that he could not talk. He thought he was earning "brownie points" with the boss but in reality, everyone was upset with him because he was contagious.
Etymology: work, hoarse, workhorse
----------------------------
COMMENTS:
Hoarseterical word! - Nosila, 2009-06-19: 13:04:00
great word - Jabberwocky, 2009-06-19: 13:42:00
----------------------------
Created by: Nosila
Pronunciation: so sheo path o jen
Sentence: Larry, who always fancied himself as a leader and trendsetter, was at it again. Feeling his employers would wilt away without him, he dragged his ailing body into the office. That guy caught more colds and flus than anyone else. Of course, he never thought to consider his colleagues, who one by one, were felled by whatever disease this sociopathogen transported. Armed with disinfectants and sprays, his poor co-workers tried their best to avoid whatever ailment he brought to work this week. They never succeeded. It is no wonder they called him Typhoid Larry!
Etymology: Sociopath (someone with a sociopathic personality; a person with an antisocial personality disorder) & Pathogen (any disease-producing agent (especially a virus or bacterium or other microorganism)
Created by: kirill
Pronunciation:
Sentence: I'd like to help you, but all all of our representatives are busy, except that one, but he's more of an ailsperson than a salesperson today.
Etymology: Ailment, as in an illness or disorder, and salesperson.
Created by: galwaywegian
Pronunciation: ded ick ay ted
Sentence: He was so deadicated he to emptying ths in-tray, that he managed to clear out the entire department as well
Etymology: dedicated, dead
----------------------------
COMMENTS:
With enough deadication you can continue to work after you die. Sort of a coasting effect. - artr, 2010-07-08: 11:57:00
Deadicated...that's why they call computers "terminals"! - Nosila, 2010-07-09: 00:35:00
----------------------------
Created by: artr
Pronunciation: stafstaf
Sentence: Betty works in an office where they are very careful to categorize workers into specific workgroups. Nobody is supposed to or allowed do work that isn't in their job description. Betty has her own categories for people who insist on coming to work despite being ill. The biggest group is the flucrew. The bunch she works hardest to avoid is the staphstaff.
Etymology: staph (a bacterium of a genus that includes many pathogenic kinds that cause pus formation, esp. in the skin and mucous membranes) + staff (all the people employed by a particular organization)
----------------------------
COMMENTS:
very creative - Jabberwocky, 2009-06-19: 13:41:00
----------------------------
Created by: TimTheEnchanter
Pronunciation: EE-gur-snee-zur
Sentence: Chad walked around the conference room introducing himself, alternately sneezing into his hand then offering to shake the hands of the guests. As the client backed away from Chad, everyone else knew the company was going to lose yet another account because Chad insisted on being such an eagersneezer who showed up no matter how contagious he might be.
Etymology: Eager beaver + Sneeze
----------------------------
COMMENTS:
funny sentence - Jabberwocky, 2008-05-07: 15:44:00
Beware, the Killer Rabbit! - pieceof314, 2008-05-08: 14:09:00
Enchanting - OZZIEBOB, 2008-05-08: 19:41:00
----------------------------
Voted For! | Comments and Points