Verboticism: Tocktickrelationship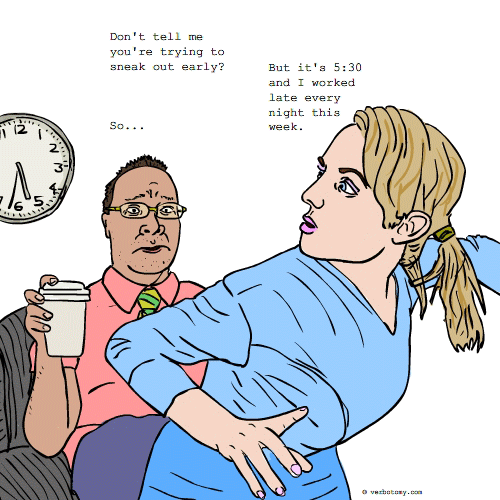 DEFINITION: n. A type of frustration created by a manager who never notices when you work late, but always nags you for leaving early whenever you leave on time. v. To carefully monitor your subordinates to ensure that they never leave work a minute early.
Already Voted
Vote not counted. We have already counted two anonymous votes from your network. If you haven't voted yet, you can login and then we will count your vote.
---
Tocktickrelationship
You still have one vote left...
Created by: bookowl
Pronunciation: the/agony/and/the/exit/see
Sentence: Every Friday the staff suffered from theagonyandtheexitsee as they tried to creep past Hal the monitor.
Etymology: the agony and the ecstasy + exit + see
----------------------------
COMMENTS:
Clever word compilation! - mrskellyscl, 2009-06-16: 16:53:00
Love it! - Nosila, 2009-06-17: 01:36:00
----------------------------
Created by: Nosila
Pronunciation: klok a doo dell doo
Sentence: Cylla Stration thought it would be a fun job drawing for a comic book company. Until she met her boss, Mr.Art Work. His policy was that no artist left for the day unless they completed a whole comic book. So he sat by the only exit, by the time clock and monitored his staff. No one left until they could clockadoodledue.
Etymology: Clock (time measurement piece) & Doodle (scribble a drawing on paper) & Due (something owed)
----------------------------
COMMENTS:
clever - Jabberwocky, 2009-06-16: 13:11:00
Cute! - Mustang, 2009-06-17: 00:47:00
----------------------------
Created by: mrskellyscl
Pronunciation: time-peep-er
Sentence: Helen suspected that Tom, the manager, was a timpeeper when she saw him standing by the coffee machine watching every move she made and checking his watch to make sure her break wasn't too long. He was always at the door in the morning with a creepy look on his face watching her take off her coat and he was there in the evening when she put her coat back on to go home. He was seen peeping over the top of her cubicle to make sure she wasn't on Ebay instead of working and wasting company time. One day, however, he went too far and followed her to the ladies room to see that she didn't take too long. He was caught on a surveilance video and her attorney had no problem filing a harassment suit.
Etymology: play on timekeeper -- peeper: voyeur (Peeping Tom)
----------------------------
COMMENTS:
The peep became a purp! Good word. - Nosila, 2009-06-16: 10:45:00
Excellent - Mustang, 2009-06-17: 00:45:00
----------------------------
Created by: ErWenn
Pronunciation: /ˈnɪtˌtɪkɚ/
Sentence: I don't mean to be a nitticker, but when you say that my pizza will be here in 30 minutes or less, do you mean from now, or from the time I called?
Etymology: from nitpicker + tick (as in a clock)
----------------------------
COMMENTS:
great word ErWenn - Jabberwocky, 2008-04-23: 14:46:00
Very good word. - OZZIEBOB, 2008-04-23: 17:48:00
----------------------------
Created by: artr
Pronunciation: tīmbēing
Sentence: Tom works for the timebeing. That timebeing is his boss. It doesn't seem to matter how much he gets done or that he arrives early and skips lunch, closing time is closing time. Tom and his boss do a mental minute waltz as 5 o'clock approaches. The fact that the boss's office is aligned with the hallway Tom uses for his escape makes him seem something like a troll guarding a bridge.
Etymology: time (the indefinite continued progress of existence and events in the past, present, and future) + being (a real or imaginary living creature)
----------------------------
COMMENTS:
very cerebral - bookowl, 2009-06-16: 16:46:00
creepy - mrskellyscl, 2009-06-16: 16:55:00
----------------------------
Created by: petaj
Pronunciation: tick - off
Sentence: We turn a blind eye to staff showing up early to work but we are rigorous about tickoff procedures and plan to appoint a manager to ensure that all staff are ticked off in an efficient and pleasant manner.
Etymology: tick (of the clock) off (as in off home, sign off, off the clock) ticked off (pissed off) tick off (cross off the list as each subordinate leaves the office)
Created by: mweinmann
Pronunciation: min - ut - jer
Sentence: Clyde was a brutal minutger. No matter how many hours his employees worked, he monitored every minute that they spent going to the bathroom, eating lunch, or talking to customers. He wanted to make sure that not a minute was ever wasted
Etymology: minute, manager
Created by: OZZIEBOB
Pronunciation: drey-KROH-nee-uhn
Sentence: "Time is money" yelled Bob so often at his long-suffering staff, that all were finally diagnosed as suffering from drachronian's syndrome, and placed indefinitely on tick leave.
Etymology: Blend of DRACO of draconian fame: Athenian lawgiver who mandated death as punishment for even minor crimes. Fig: severe, inflexible, ruthless. CHRONO, Gk meaning time, as in chronology. DRACULA: ogre, terror, bugbear. IA: suffix meaning disease, state, condition.
----------------------------
COMMENTS:
funny - Jabberwocky, 2008-04-23: 08:56:00
Perfect! - ErWenn, 2008-04-23: 09:49:00
I like the 'chrono' inflection...great word. - Mustang, 2008-04-23: 21:57:00
----------------------------
Created by: wordmeister
Pronunciation: bos tard
Sentence: He was a real bostard and would sit by the door watching the clock just in case some one tried to sneak out before 5:00pm
Etymology: boss + tard
Created by: scissorlips
Pronunciation: klahk-blahk
Sentence: Emily was frequently at work well past closing time, finishing loose ends, making up time that was perhaps wasted by her co-workers. However, Fred, her boss, was always right there; a serious pain-in-the-butt that knew nothing of her week and clockblocked her just because she wanted to beat rush hour on Friday.
Etymology: Blocking progress based on a mutually visible clock.
----------------------------
COMMENTS:
mad props - daniellegeorge, 2008-04-24: 13:18:00
----------------------------