Verboticism: Hyperrelicate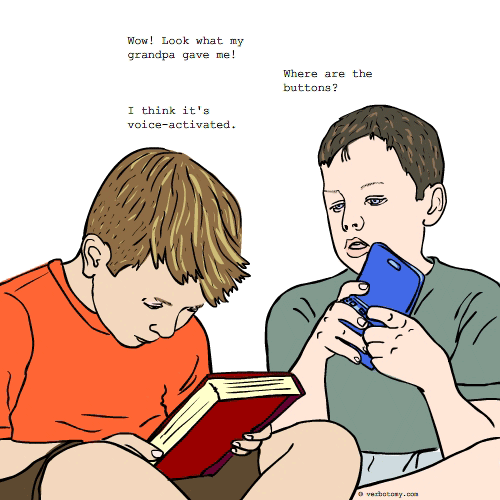 DEFINITION: n. An old media format that is no longer popular or easily accessible, such as floppy disks, VHS tapes or stone tablets. v. To try to access data stored in an old-fashioned media format, especially it requires the use archaic technology and/or protocols.
Already Voted
Vote not counted. We have already counted two anonymous votes from your network. If you haven't voted yet, you can login and then we will count your vote.
---
Hyperrelicate
You still have one vote left...
Created by: Nosila
Pronunciation: pas say im pur fect
Sentence: Young Billy adored his grandfather and loved it when the old geezer told him stories about the passéimperfect. He knew his grandpa made this stuff up, but he loved to hear about the good old days anyway and in particular about the ancient tools they used. He regaled Billy with yarns about how his phone had numbers that went round and round when he stuck his finger in the holes for each set of numbers. Grandpa also told him about watching tv shows on the one channel in black & white and for some reason you needed a rabbit's ears to see the tiny picture better. (As if!) He also told him of cooking without using a microwave (yeah, right!) and buying big blocks of ice to keep everything in the fridge cold (you've got to be kidding!). That crazy Grandpa, he told Billy that a log on was something you put on a bonfire and that a link was something you put on your sleeves to keep the cuffs closed. He said a password was something you spoke into a grill on a door to get into a speak-easy (must be some kind of spellcheck for voice actioned computers?) Billy loved the really old things that Grandpa gave him. Like most boys his age, he loved dinosaurs. He was so excited today, because Grandpa was coming over and bringing him a thesaurus...he couldn't wait to play with it!
Etymology: passé (out of fashion) & past imperfect (grammar: tense imperfect refers to an action that is uncompleted or abandoned)
----------------------------
COMMENTS:
Rrrawr! Oh no, here comes the fierce Thesaurus Rex!... That's hilarious. - Tigger, 2008-03-14: 03:09:00
All that was makes me curious about what is to come! Great etymology ... conveys the way passages from the old ... lead to the knew ... growing, evolving, better and better ... perfecting! A Perfectly wonderful sentence and word! - silveryaspen, 2008-03-14: 17:08:00
Thanks, Tigger & silveryaspen. I always thought the best name for the Toronto NBA Team was TorontoSaurus Wrecks...but no one would listen... - Nosila, 2008-03-14: 23:16:00
----------------------------
Created by: Mustang
Pronunciation: YES-ter-browz
Sentence: Having only their father's discarded very ancient computer to rely on Darren and Warren had no choice but to resort to yesterbrowse methods of finding information.
Etymology: Blend of 'yesterday' and 'browse' (do searches on the internet)
Created by: DragonRider428
Pronunciation: imm-yoos
Sentence: I found an immuse the other day - a record player!
Etymology: prefix "im" meaning "not" and "use"
Created by: monkeyhouse
Pronunciation: bay-tuh-fy-d
Sentence: DVDs are being betafied by Blu-ray.
Etymology: "Beta-" from Betamax, "-fy" ending for "make/form into"
Created by: petaj
Pronunciation: ob-sol-lacks
Sentence: Charmain looked forlorn after her best efforts at obsolackss failed to provide a workaround to access her family history data from the ancient shiny disc she discovered in the attic. If only Grandma had practised lockss.
Etymology: obsolete + hack + lockss (lots of copies keeps stuff safe - http://en.wikipedia.org/wiki/LOCKSS)
Created by: OZZIEBOB
Pronunciation: old-WANG-sine
Sentence: Computers, voice mail and all those other modern gizmoes were not what Bob dreamed of, he yearned for the clatter of the typewriter and the world of wordprocessors, and the days of auldwangsyne.
Etymology: The Wang Co.founded in 1954, makers of typewriters and early word processors & "auld lang syne" expression meaning "days of long ago"
----------------------------
COMMENTS:
bittersweet just like the song - Jabberwocky, 2008-03-14: 14:21:00
Nostalgic! A tribute to the byte-gone ways! Has such great heart! Exceptional! - silveryaspen, 2008-03-14: 18:26:00
Should ALT acquaintents be ForMat and never brought to Mines... - Nosila, 2008-03-14: 23:20:00
Very technostalgic! Does anyone remember those 8-inch floppy disks? I think some of the Wangs had those... - Tigger, 2008-03-15: 15:10:00
----------------------------
Created by: Biscotti
Pronunciation: pree-hiss-tore-teck
Sentence: Billy didn't even know what to do when his dad gave him an old record player and records. This was too prehistortech for him so he thought he had to cut the records down to size to fit into his cd player. Dad quickly corrected him after destroying his first Elvis record.
Etymology: pre-historic (very old, before history) + tech (short for technology)
Created by: Tigger
Pronunciation: /ruhs-teh-kor-ding/
Sentence: George totally enjoyed bringing his 8-year-old son with him to help clean out Grandpa's attic — where Grandpa had stored all of his old electronics and rusticordings. Grandpa had been an avid technophile in his day and the attic was like an obsolete technology museum. When George showed him the Betamax and VHS video tapes, and explained that they were like DVD-R's, Nathan inpected them and asked where the lasers went. Then, when they got to the cassettes and 8-track tapes, George told Nathan that they were what people kept their MP3's on, and then he showed Nathan the rust-colored tape and demonstrated how it turned. Nathan wanted to know how people selected the song they wanted to hear, and so George had to explain Fast Forward and Rewind, while his son struggled with the archaic concept. The vinyl records were next, and when George showed him the groove on the record, and explained how you had to carefully position the needle so as not to scratch the record, Nathan just winced and said, "Wow, Grandpa really had it rough!"
Etymology: Rust[ic] - iron [ferric] oxide; also, a thin layer of ferric oxide was used in most magnetic tapes, floppy disks and early hard discs (Old German, rost "red") + Recording - storage device containing information (from Old French, recorder "testimony")
----------------------------
COMMENTS:
Yeah, I can no longer play my rustaccordion either! - arrrteest, 2008-03-14: 12:04:00
Will use it a lot! Excellent word! - silveryaspen, 2008-03-14: 18:22:00
----------------------------
Created by: c2flores
Pronunciation:
Sentence:
Etymology:
Created by: artr
Pronunciation: hīteknēks
Sentence: Rotary phones, transistor radios, 8-tracks, cassette players, VCRs, dial-up modems... Once the pinnacle of scientific genius, these marvels are now considered hitechniques, ancient relics of technology that has moved on. Some of them still function with a patchwork of adaptations. Most are only good for cannibalizing to keep others of their kind semi-functional.
Etymology: hitech (employing, requiring, or involved in high technology) + antiques (a collectible object such as a piece of furniture or work of art that has a high value because of its considerable age)