Verboticism: Lipoosuction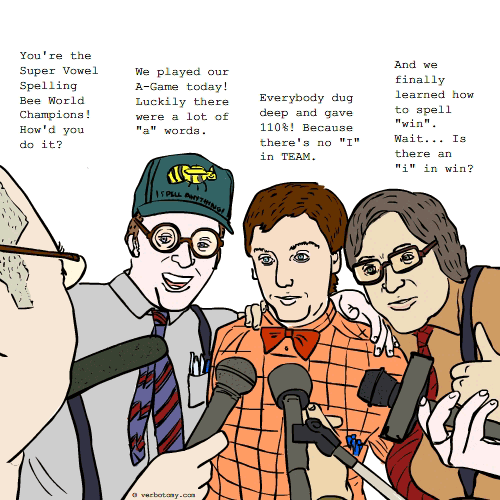 DEFINITION: v., To speak in an inspirational but perhaps incomprehensible manner by stringing together a series of grunts and clichés. n., An inarticulate TV or radio, post-game interview, typically given by a panting, toothless, sweating, verbally-challenged, and hugely overpaid, athletic superstar.
Already Voted
Vote not counted. We have already counted two anonymous votes from your network. If you haven't voted yet, you can login and then we will count your vote.
---
Lipoosuction
You still have one vote left...
Created by: logarithm
Pronunciation: ˈʃvaɐt-sən-ae-bEl
Sentence: I haven't a single idea what the public announcement at the mall is schwarzenabbling about. For god's sake, the management should replace the bad speakers!
Etymology: 1) Schwarzenegger: refers to the way Arnold Schwarzenegger speaks. 2) Gabble: rapid and indistinct speech.
----------------------------
COMMENTS:
Super Duper! - silveryaspen, 2008-11-27: 01:24:00
Thanx Silveryaspen. It's time to cast my vote for today! - logarithm, 2008-11-27: 10:59:00
----------------------------
Created by: abrakadeborah
Pronunciation: id-e-ot-ik-ers
Sentence: The Speebee team rambled on with idiotickers during the interview.
Etymology: A play on the word Idiot- An utterly foolish or senseless person.
Created by: Mustang
Pronunciation: soo-per-flue-DUN-dant
Sentence: Giving his usual superfludundant gobbledygook responses to the rapid fire questions about the game following his teams' victory, Garrison felt was making a good impression on the tv audience while in fact few people actually understood a word of his gibberish.
Etymology: Blend of 'superfluous' and 'redundant'....a word that is doubly redundant/superfluous itself.
----------------------------
COMMENTS:
just trying to say the word gets your point across - Jabberwocky, 2008-11-27: 13:21:00
----------------------------
Created by: Jabberwocky
Pronunciation: pa/twa/moe/nee
Sentence: Inbreeding of rock stars finally led to the inevitable evolution of patoismoany, a strange dialect understood only by crazed fans.
Etymology: patois (regional dialect) + moan + patrimony
Created by: GeneralBeresford
Pronunciation: Inspi-rate
Sentence: When Glen was interviewed after the game he tried hard to explain how good it felt to win, but only managed to inspirate.
Etymology: Inspire + Irate = Inspirate
----------------------------
COMMENTS:
good combo - porsche, 2008-02-05: 13:18:00
----------------------------
Created by: Stevenson0
Pronunciation: beef/cant
Sentence: Once all the sports writers were present, the football hero rolled into his beefcant of all the wonderful things his team did on the field today.
Etymology: BEEFCANT - noun - from BEEFCAKE (men with muscular physiques) + CANT (to speak in a jargon, or secret language; to use phraseology particular to a group)
----------------------------
COMMENTS:
or can't as in can't speak - great word - Jabberwocky, 2008-11-27: 09:15:00
----------------------------
Created by: Tigger
Pronunciation: /cham'-prat-el/
Sentence: When the interviewer asked him for his commentary on his boxing win, Tyke Myson issued forth a stream of champrattle, starting with, "I got's just one word for all my fans — 'I did it!' And you know I hadda overcome a lot of diversity ta' get me where I is today," etc...
Etymology: champ - a champion; informal (shortening of "champion") + prattle - to talk in a foolish or simple-minded way (from Middle Low German, praten "chatter")
----------------------------
COMMENTS:
Right on with your incorporation of prattle and chatter with the word champ. Excellent combo! - silveryaspen, 2008-02-04: 22:30:00
rolls off the tongue well, good word! - bananabender, 2008-02-04: 23:55:00
----------------------------
Created by: purpleman
Pronunciation: sport/age
Sentence: when it was the last football game of the year i was so rervese all of the anouncers and people watching me....we won the game and the anouncers guy came over and started talking in sportuge
Etymology: spot+languge
Created by: artr
Pronunciation: platichatər
Sentence: After an embarrassing comment or two, the coach decided to give players a few talking points to consider. Now the post-game interviews have become so much platichatter.
Etymology: platitude (a remark or statement, esp. one with a moral content, that has been used too often to be interesting or thoughtful) + chatter (talk rapidly or incessantly about trivial matters)
Created by: artr
Pronunciation: platidoōd
Sentence: After the team has a rough game and nobody wants to face the press, they trot out their best platidude. Phrases like **It was a learning experience**, **It*s a building year**, and **They were the better team tonight** flow from his mouth without so much as a thought. When he was finished most of the reporters still had blank note pads.
Etymology: platitude (a remark or statement, esp. one with a moral content, that has been used too often to be interesting or thoughtful) + dude (a man; a guy)
----------------------------
COMMENTS:
good word, dude... - Nosila, 2010-04-22: 11:39:00
----------------------------