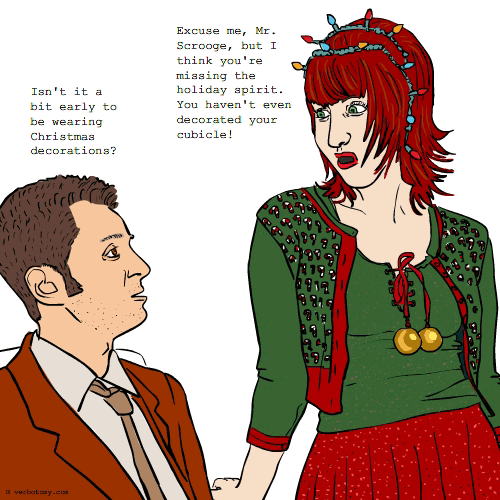 DEFINITION: n., A person so enamored with the holidays that they don't just deck their halls and home, but they also decorate their car, their cubicle, their pets, and themselves. v., To obsessively decorate according to seasonal holidays.
Already Voted
Vote not counted. We have already counted two anonymous votes from your network. If you haven't voted yet, you can login and then we will count your vote.
---
Holidict
You still have one vote left...
Created by: OZZIEBOB
Pronunciation: JOO-buh-LAK-ee
Sentence: For Bob, a jubilackey, and, especially, a yulethrall, festinfatuation, with the feriations of the whole world, continued year-long with 365 red-letter days.
Etymology: Blend of JUBILEE: A season of general celebration, holiday and rejoicing & LACKEY: Slave(slang); disciple, follower
----------------------------
COMMENTS:
Good one Bob! - emdeejay, 2008-12-09: 22:22:00
----------------------------
Created by: williek1
Pronunciation:
Sentence:
Etymology:
Created by: lelia
Pronunciation: holi-fan-o-rator
Sentence: She is such a holifanorator that she has lost count of all of her decorations!
Etymology:
Created by: Nosila
Pronunciation: worn a ment
Sentence: Mary-Chris Mass has for obvious reasons become obsessed with festooning herself, her car, her house and her work space with Christmas decorations. Her efforts to wornament herself, family and colleages has actually paid off. They find it easier to conform to her wishes than to resist. In fact they carry the theme year-round. The office is now painted red and green and holly, ivy, poinsettias and mistletoe grow in the office atrium. Because her office is a call centre conducting market research, the building is now being called the North Poll!
Etymology: Worn (past participle of wear;something adorning oneself) & Ornament (v. to make more attractive by adding ornament, colour, etc.)
Created by: Buzzardbilly
Pronunciation: dek-i-roh-tuh-mey-nee-ak
Sentence: Christmas my foot, she's a deckerotomaniac for any holiday from the rabbit ears she attached to her car at Easter down to the doughboy uniform she wore for Armistice Day.
Etymology: deck (to adorn people or rooms, also invokes the movie "Deck the Halls" about overdecorating) + erotomaniac (abnormally strong sexual desire because deckerotomaniacs clearly get off on decorating)
Created by: OZZIEBOB
Pronunciation: fest-in-FACH-oo-eyt
Sentence: For Bob, festinfatuated with the feriations of the whole world, the year was a 365 red-letter daze.
Etymology: Festinfatuate: Festival, Festoon & Infatuate:inspire with extravagant passion. 2. Feriation: celebrating a holiday (Grambs: "The Endangered English Dictionary.")
Created by: JusMeLP
Pronunciation: De'CORE' - o - sessive
Sentence: Call me 'Decorosessive', but jus' because you don't appreciate holidays - Don't hate me for being 'In the Spirt' !!!!
Etymology: Decor + Obsessive = a compulsion to Decorate everything during a holiday!!
Created by: beaugosse
Pronunciation:
Sentence: Look at this house! She's a seasonal holidict!
Etymology:
Created by: nhanusek
Pronunciation: deck a hols ic
Sentence: Anita suffers from deckaholsic. I think she even attends meetings.
Etymology: deck the halls + alcoholic
----------------------------
COMMENTS:
Nice! Deckaholic would have been good as well. - purpleartichokes, 2007-12-03: 18:57:00
----------------------------
Created by: Jabberwocky
Pronunciation: reeth/flex
Sentence: Once the first snowflake has fallen it is an automatic wreathflex to bedeck and festoon everything within eyesight with garlands and bows and silver bells...ahhh gives me goosebumps. 'deck the halls with boughs of holly, fa la la la la la la la la'
Etymology: wreath + reflex
----------------------------
COMMENTS:
Clever create and Christmas carolling for our delight - silveryaspen, 2008-12-09: 11:08:00
Incredible. - nickmarziani, 2008-12-09: 11:52:00
BRILLIANT!! EASILY ONE OF THE BEST WORDS THIS MONTH!!! - Stevenson0, 2008-12-09: 17:38:00
We are wreathed in smiles... - Nosila, 2008-12-09: 23:19:00
----------------------------