Verboticism: Lolcatastrophy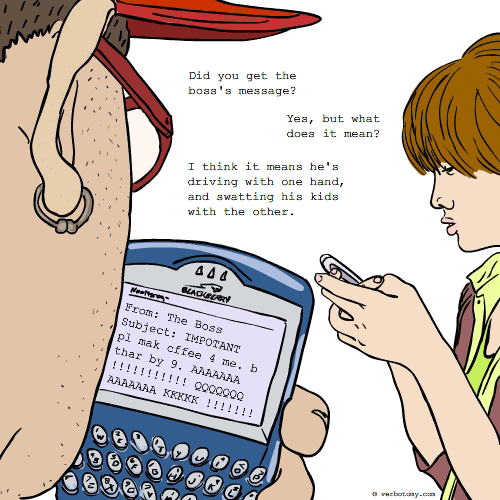 DEFINITION: v., To grasp the meaning of muddled texts like blog posts, emails and text messages where standard grammatical or spelling conventions have been ignored. n., The ability to read and understand confused or poorly written messages.
Already Voted
Vote not counted. We have already counted two anonymous votes from your network. If you haven't voted yet, you can login and then we will count your vote.
---
Lolcatastrophy
You still have one vote left...
Created by: emilylind
Pronunciation: Say jumble then reader
Sentence: He's a amazing jumblreader !
Etymology:
Created by: solocard
Pronunciation: bayb-lol-fish-cayt
Sentence: Even though Jimmy was adamant that his texts were easily understood, it took a while before his parents were able to babelolfishcate his messages.
Etymology: From the term "Babel Fish", mixed with internet speak. Other usages include Babelwtfish.
----------------------------
COMMENTS:
Got give a vote for a HGTTG reference - petaj, 2007-11-16: 06:51:00
----------------------------
Created by: mrskellyscl
Pronunciation: tex-ti-col-o-gist
Sentence: Having twin 15 year old daughters, and a 13 year old son qualified Sara as an expert texticologist and she was often called as an expert witness in court proceedings where text interpretation was needed.
Etymology: lexicology:the study of words and their meanings + text: + (-ologist-science or study of)texting: sending a text message
----------------------------
COMMENTS:
good one - Nosila, 2010-03-11: 16:12:00
----------------------------
Created by: badsnudge
Pronunciation: ˈlēt-ə-rət
Sentence: "OMG! ure rly noobi5h. lkjlkjlkj" wrote the daughter to her father, which may have otherwise resulted in hurt feelings, but fortunatly, the father was not leeterate (also l33t3r8), and had no idea what she meant, and only figured that there must have been something wrong with her or his phone.
Etymology: l33t + literate.
Created by: purpleartichokes
Pronunciation: text-cra-poh-late
Sentence: Although the message may have been written in Sanskrit, Bob was able to textcrapolate that he was to pk up da kdz aftr wrk.
Etymology: text, crap, extrapolate
----------------------------
COMMENTS:
good one purple - Jabberwocky, 2007-11-15: 08:55:00
Nice bit of cyberdazzle! - OZZIEBOB, 2007-11-15: 17:39:00
y, thnk ya! - purpleartichokes, 2007-11-15: 18:58:00
gets my vote :) - badsnudge, 2007-11-15: 22:25:00
----------------------------
Created by: Nosila
Pronunciation: dee sye for
Sentence: Once again Nancy had to try and decode her boss's text message. She always hoped her hunky boss would find her as attractive as she found him and send her a personal message. So far she could only dsighfor his texts, which all seemed to be business related. It did not help that he was such a poor speller and tended to multitask while texting her instructions. The latest message was especially confusing. "Gout 4 drinks? Call" She didn't know if she should pretty herself up and make reservations or call his doctor to make an appointment...
Etymology: Decypher (convert code into ordinary language;read with difficulty) & Sigh For (an utterance made by exhaling audibly; indicating anxiety about one's emotional attachment for someone)
Created by: rikboyee
Pronunciation: dee-sigh-bah
Sentence: when i texted 'flz 88 grm nb h5g nnzz' to my friend i was confident he would be able to decyber it
Etymology: decipher, cyber
Created by: Mustang
Pronunciation: gob-uhl-deh-kook
Sentence: Fenster is an absolute gobbledekook who can instantly decipher the garbled lingo used by those who textmessage and post on blogs and forums.
Etymology: Blend of 'gobbledegook' (language characterized by circumlocution and jargon, usually hard to understand) and 'kook' (an eccentric, strange, or foolish person)
----------------------------
COMMENTS:
Love that jargon, Mustang! http://www.pacifier.com/~dkossy/kooksmus.html - metrohumanx, 2008-10-14: 02:33:00
----------------------------
Created by: Jabberwocky
Pronunciation: text/cav/ay/tor
Sentence: When archaeologists unearth blackberries in the future they will need textcavators to decipher the messages.
Etymology: excavator + text
----------------------------
COMMENTS:
Good Usage. - dubld, 2007-11-15: 12:46:00
Great word and real cyberwocky! - OZZIEBOB, 2007-11-15: 17:36:00
----------------------------
Created by: artr
Pronunciation: sīfərfaðəm
Sentence: Harry spent his career breaking coded messages in his job at the NSA. Despite this he has trouble trying to cypherfathom emails and texts from his kids.
Etymology: cypher (a secret or disguised way of writing) + fathom (understand)