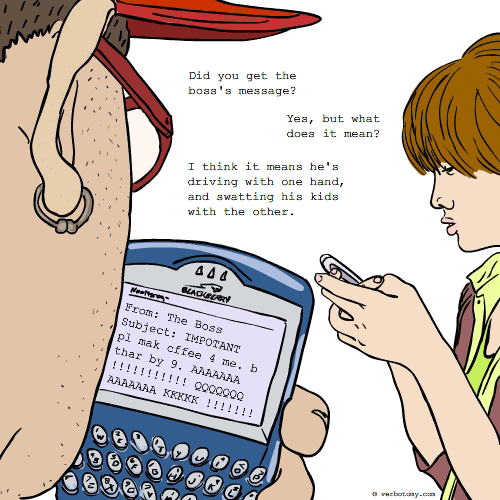 DEFINITION: v., To grasp the meaning of muddled texts like blog posts, emails and text messages where standard grammatical or spelling conventions have been ignored. n., The ability to read and understand confused or poorly written messages.
Already Voted
Vote not counted. We have already counted two anonymous votes from your network. If you haven't voted yet, you can login and then we will count your vote.
---
Cryptograsp
You still have one vote left...
Created by: artr
Pronunciation: sīfərfaðəm
Sentence: Harry spent his career breaking coded messages in his job at the NSA. Despite this he has trouble trying to cypherfathom emails and texts from his kids.
Etymology: cypher (a secret or disguised way of writing) + fathom (understand)
Created by: MithrilShadow
Pronunciation: tekst-ˈli-tə-ˌrāt
Sentence: Joel had to textliterate the message from his boss's strange grammar form to English, in order for any one in the office to understand what he wanted them to do.
Etymology: Text: the original words and form of a written or printed work Transliterate: to represent or spell in the characters of another alphabet
----------------------------
COMMENTS:
I love this word ! Thanks for contributing ! - emilylind, 2007-11-15: 20:39:00
----------------------------
Created by: OZZIEBOB
Pronunciation: sahy-ber-TEKS-ter-i-tee
Sentence: Bob was worried when he recieved an email, in cyberslang, saying: " i h8 u q-tip!" His grandson, Thomas, who had cybertexterity with rab, told him: " don't let it 'k' your 'b' it's t-i-c and p2c2e."
Etymology: 1. cybertexterity:blend of cyber, text & dexterity. 2.q-tip:an elderly, white-haired person. 3."k" his "b": bug him. 3."t-in-c":tongue in cheek. 4. rab :level of understanding above the general knowledge of a given subject. 5.p2c2e:too complicated too exp
----------------------------
COMMENTS:
yikes! no idea what that means - I have very litte cybertexterity (great word) - Jabberwocky, 2007-11-15: 13:03:00
Yep, I like it too! - purpleartichokes, 2007-11-15: 19:01:00
----------------------------
Created by: MrDave2176
Pronunciation: dee-MUN-gul
Sentence: The message was almost hopelessly unreadable until Jeremy stepped in to demungle it.
Etymology: "to Mung" is a hacker term which means to alter in some negative way. A mungle message would be altered to be unreadable. To demungle would make it whole again, right?
Created by: badsnudge
Pronunciation: ˈlēt-ə-rət
Sentence: "OMG! ure rly noobi5h. lkjlkjlkj" wrote the daughter to her father, which may have otherwise resulted in hurt feelings, but fortunatly, the father was not leeterate (also l33t3r8), and had no idea what she meant, and only figured that there must have been something wrong with her or his phone.
Etymology: l33t + literate.
Created by: garythesnail
Pronunciation: Slu-text-i-zhion
Sentence: When her husband sent her an IM, Jane said 'What is this?' Her husband said I have slatextion. It says: Get eggs, coffee and milk at the store, please.
Etymology: Slang+text+suffix "ition"
Created by: Amaya1961
Pronunciation:
Sentence:
Etymology:
Created by: artr
Pronunciation: dijibər
Sentence: Claire is the perfect personal assistant to Mr. BigPants. She is the only one who can degibber his cryptic e-mails and memos. Most agree that his notes could be created by a chipmunk dancing on a keyboard. They also believe that most of the great ideas that come out of the head office are really generated by Claire. She just smiles and gives credit to her boss.
Etymology: de (denoting removal or reversal) + gibber (speak rapidly and unintelligibly)
Created by: astorey
Pronunciation: get-a-bite
Sentence: Tess thought she could multitask, but alas, as with so many people, she was not as good as she thought. She would send frequent getabytes to her friends, her husband and the random work contact who was unfortunately positioned at the top of her contact list. While those close to her were able to interpret her getabytes correctly, her colleague could never figure out if Tess was hitting on him or trying to turn him into her personal concierge. Either way, he wasn't into her.
Etymology: To "get" as in both to receive and to understand+ "byte" as in the increment of data, combined to sound like gigabyte or another of the many byte words they make up these days.
----------------------------
COMMENTS:
Yes, we have the technology...we just don't know how to use it correctly! - Nosila, 2008-10-14: 20:10:00
----------------------------
Created by: purpleartichokes
Pronunciation: text-cra-poh-late
Sentence: Although the message may have been written in Sanskrit, Bob was able to textcrapolate that he was to pk up da kdz aftr wrk.
Etymology: text, crap, extrapolate
----------------------------
COMMENTS:
good one purple - Jabberwocky, 2007-11-15: 08:55:00
Nice bit of cyberdazzle! - OZZIEBOB, 2007-11-15: 17:39:00
y, thnk ya! - purpleartichokes, 2007-11-15: 18:58:00
gets my vote :) - badsnudge, 2007-11-15: 22:25:00
----------------------------