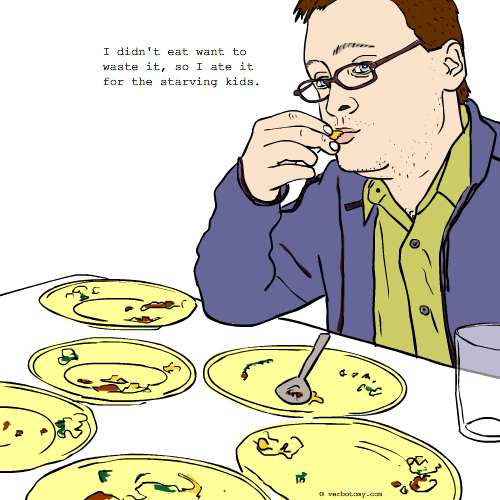 DEFINITION: v., To finish your plate and eat all the food in front of you, even when not hungry. n., Compulsive over-consumption of food in order to relieve guilt.
Voted For: Seefoodiet
Successfully added your vote for "Seefoodiet".
You still have one vote left...
Created by: hooterbug
Pronunciation: ˌgəl-pə-ˈbi-lə-tē
Sentence: Max's extreme Gulpabilty had caused him to balloon to a quite hefty 450 pounds. All his life his mother had chastised him for not finishing his meals. "Think of all the kids in India Max that dont get anything but rice, or whatever it is they grow over there!" I'm sure they would LOVE to get some fresh peas and corn in their bellies"
Etymology: Gulp (a large and hurried swallow; "he finished it at a single gulp") + Culpable (blameworthiness, a state of guilt)
----------------------------
COMMENTS:
Well done! - astorey, 2008-09-12: 10:41:00
Great word! - TJayzz, 2008-09-12: 13:06:00
We'd hate for him to be too gulpable! - Nosila, 2008-09-12: 22:21:00
----------------------------
Created by: mplsbohemian
Pronunciation: stahr-vihng-CHYE-nuh-sihn-drohm
Sentence: Alex grew up to develop starvingchinasyndrome; sadly, he often cleaned dates' plates before they were done with them.
Etymology: "You'd better clean your plate, there are starving children in China!" + China syndrome + syndrome
Created by: destrict
Pronunciation: kon-soom-eyes
Sentence: Luckly, Joe didn't consumize the whole dinner table.
Etymology:
Created by: dogran
Pronunciation: afr-ee-tin
Sentence: What on earth is that man doing licking that woman's plate? Its very unfortunate but after he visited africa he has come over all afreatin and such
Etymology: Eating for Africa
Created by: oxinlingo
Pronunciation:
Sentence:
Etymology:
Created by: metrohumanx
Pronunciation: WHO-vuhr-eyes
Sentence: Timmy The Beard returned from his sojourn in the deep woods and proceeded to HOOVERIZE every edible morsel placed before him.
Etymology: HOOVER-a popular brand of vacuum cleaner + suffix "IZE" = HOOVERIZE.
----------------------------
COMMENTS:
I just came in at number twenty-five-I'm oh so happy and so glad to be alive. Everybody says i'm gonna get to the top....Life is so easy when your record's hot ! - metrohumanx, 2008-09-12: 15:28:00
Amazing. I zoomed up to #59 in like. 30 minutes.Go figure :) - metrohumanx, 2008-09-12: 16:24:00
As long as he doesn't like to J.Edgar Hooverize...or as they sing in Monty Python's Lumberjack Song..."I cuts down trees, I wears high heels, suspenders and a bra, I wants to be a lady, just like my old Papa!: - Nosila, 2008-09-12: 22:33:00
Timmy the Beard. I think I dated him. :) - lumina, 2008-09-12: 22:49:00
----------------------------
Created by: karenanne
Pronunciation: kum PASH un eet
Sentence: Mr. Hoover always thinks of those less fortunate as he enjoys his meals, remembering his mother's words that "there are children in China who would love to eat" whatever is on his plate. He is very compassioneat, sometimes "dedicating" each of his second, third, etc., helpings to some unknown starving person. He even considers eating food off the floor to be "helping Mother Earth" by "recycling" something that would otherwise go uneaten. "Waste not, want not," he always says. More like "Waste not, waist YES."
Etymology: compassionate + eat
Created by: petaj
Pronunciation: seafood-diet
Sentence: Wally wasn't called Wally because his name was Wallace, it was because he resembled a Walrus due to his seefoodiet.
Etymology: An oldy but a goody. I'm on a diet. Oh really, what kind? A seafood diet. I see food and eat it.
Voted For! | Comments and Points
Created by: skunkchunk
Pronunciation: Stuff-in-ate
Sentence: Lard looked lovingly at all the food left on his plate, and though bloated and satiated, he couldn't resist the urge to stuffinate himself!
Etymology: gorge, stuff oneself to the brim
----------------------------
COMMENTS:
Stuff + suffocate :) Great! - FayeWord, 2007-10-17: 23:04:00
----------------------------
Created by: MrDave2176
Pronunciation: LEFT-eu-vrr
Sentence: Kit picked over the remains of the bloomin' onion and the bits of sirloin scattered about the table at the Outback until there was nary a leftoeuvre remaining. Her friends shook their heads sadly as they watched her gnawrosis manifest itself. gnawrosis: to eat compulsively.
Etymology: left(over) + oeuvre (in the sense of a complete set) = all the food left on the table. gnaw + neurosis = to compulsively eat.