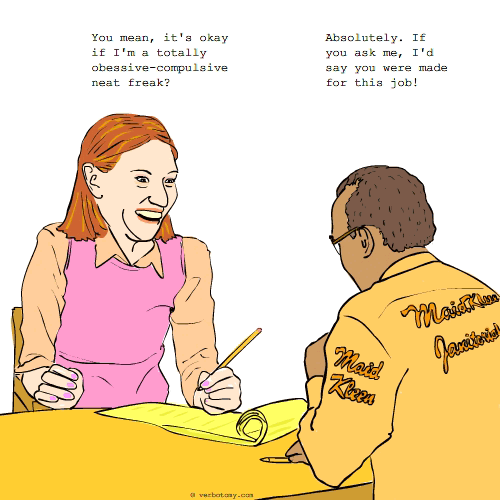 DEFINITION: v. To suddenly discover that your most troublesome personality defect, for which you have been taking medication and/or therapy, is actually your greatest asset. n. A perceived weakness which is actually a strength.
Voted For: Traumaze
Successfully added your vote For "Traumaze".
You still have one vote left...
Created by: galwaywegian
Pronunciation: loo na tik awl the rite bok ses
Sentence: She managed to lunatickalltherightboxes despite the rather stained resumé
Etymology: lunatic tick all the right boxes
Created by: Msumida
Pronunciation: Replace the w in worse with bl.
Sentence:
Etymology: Combination of "blessing" and "curse" from the the saying, "It's a blessing and a curse."
Created by: ohwtepph
Pronunciation: deh-fah-set
Sentence: I never knew she was up for the job until I realized that she had a defasset.
Etymology: defect + asset + deficit
Created by: scrabbelicious
Pronunciation: Pro-zac-teh-vit-ie
Sentence: Positive discrimination my eye!, thought Julie during her job interview, what I need is some prozactivity, these pills do pay for themselves you know...it says so on the packet.
Etymology: Bonding of 1) Prozac, brand of antidepressant favoured by actor Tom Cruise. 2) Productivity, daily pursuit of the gainfully employed or 10% of actors. 3) activity, type of collective movement engaged in by groups that gather in flurries, as in "a flurry of activiy in the office"
----------------------------
COMMENTS:
An excellent example of prozactive problem solving! - jrogan, 2009-07-31: 10:38:00
----------------------------
Created by: AliA415
Pronunciation: Mer-to-gram
Sentence:
Etymology:
Created by: andrewa121
Pronunciation: "that's it insane"
Sentence: After interviewing candidate after candidate for our unique position, we finally found one who was thatsitinsane. Her quirks were perfect in every way.
Etymology: from "that's it", an epiphanic phrase, and insane, denoting a tenuous relationship with the rational. cf. "bat shit insane".
Created by: artr
Pronunciation: nänˈpləspləs
Sentence: The fact that Jerry was unsure what to do and accomplished little made him perfect for his government job. It turned out to be a nonplusplus. He even developed a theory and an entire unofficial training program entitled DYNAMIC INACTION in which you look very busy working in one direction only to reverse course before you get to any measurable goal. The net result; status quo. Not only do you NOT rock the boat, you confine all your activity to the dock.
Etymology: nonplus (surprise and confuse (someone) so much that they are unsure how to react) + plus (an advantage)
----------------------------
COMMENTS:
"DYNAMIC INACTION" - hilarious! Good word - splendiction, 2009-07-31: 18:01:00
----------------------------
Created by: purpleartichokes
Pronunciation: em-foy-bull
Sentence: "Eureklutz!" Ted exclaimed, as he landed that nifty job as a baggage handler. He had become emfoible.
Etymology: employable, foible
Created by: galwaywegian
Pronunciation: han dee kap
Sentence: at the Outside the Box employment agency they help change a handicap to a handycap, one person's OCD sufferer is another person's cleaner/office manager/proof reader.
Etymology: handicap, handy
----------------------------
COMMENTS:
love it - remistram, 2007-06-25: 14:37:00
Voted! - Clayton, 2007-06-25: 21:15:00
----------------------------
Created by: jadenguy
Pronunciation: luk jaa
Sentence: His inability to talk made him a great grief counciler. His success rate was nearly 87%, with comment cards lauding his ability to listen.
Etymology: lockjaw + luck