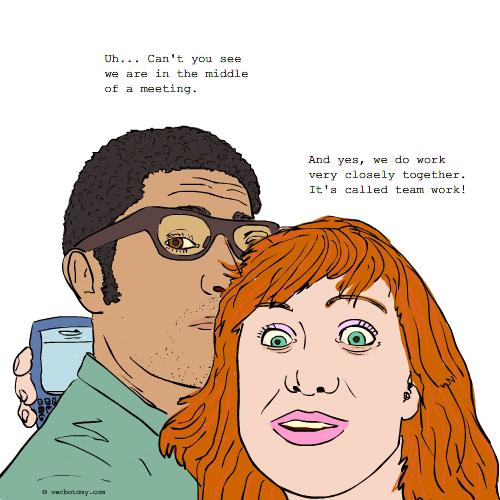 DEFINITION: n. A specially coded language, which newly dating couples use to describe their relationship when they don't want other people to realize that they have "the hots" for each other.v. To talk about sex in a code words.
Already Voted
Vote not counted. We have already counted two anonymous votes from your network. If you haven't voted yet, you can login and then we will count your vote.
---
Rapdezvous
You still have one vote left...
Created by: dancemonkey
Pronunciation: In-FAT-Chew-Speak
Sentence: Katie and Arnold's infatuspeak got annoying, especially since the entire office knew what they'd done in the break room.
Etymology: From the noun infatuation and the verb to speak. Like you needed that explanation.
Created by: allwise
Pronunciation: ko-deit
Sentence: They said they were just a team, but everybody could sense Dave and Ann was codating; the way they snickered when they talked, how they appeared at work at the same time every day and of course the strange sounds from the locked copying-room.
Etymology: code + dating/ co-working
Created by: porsche
Pronunciation: rap/day/vu
Sentence: Whenever he wanted to let her know that they should sneak away he would rapdezvous
Etymology: rap + rendezvous
Created by: mickey666
Pronunciation: tecksed -you-allity
Sentence: With knowing smile he volunteered to stay late at work and assist her with the project. His words oozed textuality
Etymology: text + a bit of sexuality.
Created by: Nosila
Pronunciation: dee sy for
Sentence: The 2 cryptographers at the remote intel-gathering outpost in Canada's wilds were in the business to decypher enemy codes. When they fell in love, it was very hard for them to desighfor anything!
Etymology: Decipher (convert code into ordinary language: & Sigh For (yearn after)
Created by: jedijawa
Pronunciation: bun-nee-ban-tur
Sentence: Jill and Jack's bunnybanter was thinly veiled flirtation.
Etymology: bunny - (i.e. cute) + banter (i.e. talk)
Created by: superbananaman
Pronunciation: limb-bock-tyze
Sentence: amy and john limboctise when asked "why were you two so close to each other"
Etymology: love+boctise (just because it sounded good)
Created by: Madamemojo
Pronunciation:
Sentence:
Etymology:
Created by: toralora
Pronunciation: dait/ish
Sentence: Allthough they spoke Datish at the office, we all understood what was going on.
Etymology: date/dating + -ish (like in Swedish).
Created by: ekath
Pronunciation: ah-sew-see-ah-mitt-al
Sentence: The boss doesn't know they're associamittal. If he finds out, they'll be in... separate doghouses.
Etymology: from associates + committal