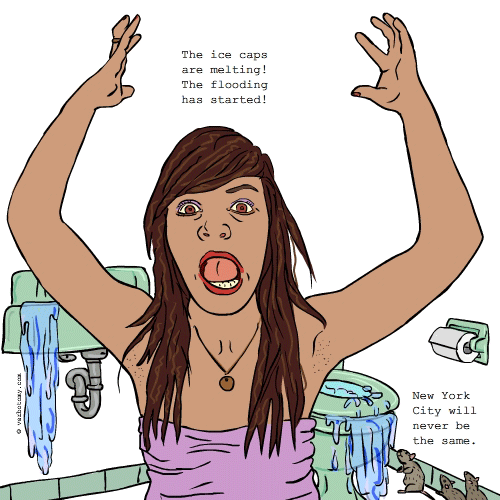 DEFINITION: v. To increase the world's liquid water supply (and dramatically raise the level of our oceans) by accidentally melting the polar ice caps. n. The rising seas and associated flooding due to melting ice caps.
Already Voted
Vote not counted. We have already counted two anonymous votes from your network. If you haven't voted yet, you can login and then we will count your vote.
---
Flaw
You still have one vote left...
Created by: Nosila
Pronunciation: hy dro flo bee ya
Sentence: You will know we are suffering from hydroflobia when polar bears and penguins start arriving on one's doorstep, together!
Etymology: Hydro (relating to water) & Flow (the act of flowing or streaming; continuous progression) & Phobia (fear of something)
----------------------------
COMMENTS:
Nice triple, N! ...but i expected more Nosila filla! Well done. - metrohumanx, 2009-03-16: 01:50:00
loveit! - galwaywegian, 2009-03-16: 05:04:00
Gets high marks here! - silveryaspen, 2009-03-16: 17:22:00
----------------------------
Created by: abrakadeborah
Pronunciation: Ar-tic-mel-ti-flow
Sentence: Eeeek! Marie-Jacques ran screaming out of her home in her bath towel in a panic from the "articmeltiflow" causing water to gush out of every plumbing fixture in her house! She was feeling the effects of global warming. She knew the temperatures in the Arctic region were rising twice as fast as they are elsewhere in the world and the Arctic ice is melting and causing an "articmeltiflow" so badly that is was bursting pipes and overflowing everywhere! Small wild animals were being forced out of their natural habitat floating into Marie-Jacques's home. It wasn't the "articmeltiflow" that she was so much afraid of, it was all the wild animals scurrying around to make a new home at Marie-Jacques's home!
Etymology: Artic;The Arctic (/ɑɹktɪk/, /ɑɹtɪk/) is the region around the Earth's North Pole, opposite the Antarctic region around the South Pole. The Arctic includes the Arctic Ocean (which overlies the North Pole) and parts of Canada, Greenland (a territory of Denmark), Russia, the United States (Alaska), Iceland, Norway, Sweden and Finland. Melt;the process of heating a solid substance to a liquid. tiflow;(slang);causing water to gush as you flush,brush or shower "Articmeltiflow" is causing all your plumbing to overflow and flooding you out of the house as small wild animals float inside and take over.
Created by: Nosila
Pronunciation: eys berg wet us
Sentence: The rise in oceans due to polar meltdown was setting off bergler alarms in the world. Edna D. World, was so panicked that she told her friends she was suffering from a bad case of icebergwetus. She was in bad need of some glaciation therapy.
Etymology: Iceberg (a large mass of ice floating at sea; usually broken off of a polar glacier) Wet Us (get us soaked) and play on iceberg lettuce (lettuce with crisp tightly packed light-green leaves in a firm head)
Created by: remistram
Pronunciation: ah-kwa-ment
Sentence: Hilda was relieved she didn't need plastic surgery to aquament her apartment.
Etymology: aqua + augment
Created by: mweinmann
Pronunciation: seep + rising
Sentence: The effects of global warming have had seaprising consequences as coastal areas start to become much soggier. Water is seeping into places it was not meant to be and the water table is definitely rising.
Etymology: Sea, seep, Surprising, rising
----------------------------
COMMENTS:
Super sentence, etymology and word! - silveryaspen, 2009-03-16: 17:30:00
Really good word. - kateinkorea, 2009-03-17: 19:58:00
----------------------------
Created by: metrohumanx
Pronunciation: high-DRALL-ick-REAP
Sentence: "I can't stand Venice" said Florence- as she revved up her gross SUV- she resisted downsizing- as the waters kept rising- her error was failing to sea! Denial and tears came in torrents- we were singing a CO2 dirge- our years of excess- caused a wet sloppy mess- now all we can do is submerge. For years some had tried to persuade us- That the problem was oil and coal- But a global guffaw- Caused the glaciers to thaw- Now HYDRAULICREEP's out of control.
Etymology: HYDRAULIC+CREEP=HYDRAULICREEP..........HYDRAULIC: operated, moved, or effected by means of water, of or relating to water or other liquid in motion; Latin hydraulicus, from Greek hydraulikos, from hydraulis hydraulic organ, from hydr- + aulos reed instrument [1661].....CREEP: to enter or advance gradually so as to be almost unnoticed, to change shape permanently from prolonged stress or exposure to high temperatures, to go very slowly; Middle English crepen, from Old English crēopan; akin to Old Norse krjūpa to creep [before 12th century].
----------------------------
COMMENTS:
Florence couldn't fathom why her beach house vanished or why the shore was miles inland, she disliked the ocean, but at least she could surfeit. - metrohumanx, 2009-03-16: 01:47:00
Good sentence! Good word! - silveryaspen, 2009-03-16: 17:28:00
Impressive word and sentence! So true: her home built too close to the shoreline - the denial or ignorance of globalwarming's effects - splendiction, 2009-03-16: 20:17:00
Good word there metrohumanx,You're a brilliant writer too :) - abrakadeborah, 2009-03-16: 22:56:00
My humble thanks. - metrohumanx, 2009-03-17: 03:00:00
Really good! - kateinkorea, 2009-03-17: 19:28:00
----------------------------
Created by: kalex
Pronunciation: ah-kwa-ged-dun
Sentence: Arks became all the rage after I singlehandedly spurred the melting of the polar ice caps.
Etymology: Aqua-water geddon-suffix associated with apocalypse
Created by: Mustang
Pronunciation: sub-ter-RAIN-ing-on
Sentence: By trying to harvest ice from the arctic and antarctic ice caps to sell as crushed ice to bars around the world, the ice magnates created massive melting resulting in globaldownpours of biblical proportions, with subterraningon, the gradual submergence of nations around the globe, being the result.
Etymology: blend of prefix 'sub' (under), 'terrain' (land expanse) 'rain' and 'on'. Play on the word subterranean....'below the surface of the earth'.
----------------------------
COMMENTS:
-funny! - splendiction, 2009-03-16: 20:14:00
----------------------------
Created by: Annette
Pronunciation:
Sentence: The capqua flow is even larger than anticipated.
Etymology:
----------------------------
COMMENTS:
Good start...I like the word. - kateinkorea, 2009-03-17: 19:30:00
----------------------------
Created by: artr
Pronunciation: səbərgēə
Sentence: Life would never be the same in Frostberg. Yes, global warming had kicked in and the polar ice cap was breaking up. That just meant that suburbia was now suburgia with a full-fledged iceberg parked in the recently-developed harbor. Residents can go boating in the morning and ice climbing in the afternoon. Old-man Johnson had tried to start up a snow cone stand but most didn't care for the salty treats.
Etymology: suburbia (the suburbs or their inhabitants viewed collectively) + berg (a large floating mass of ice detached from a glacier or ice sheet and carried out to sea)