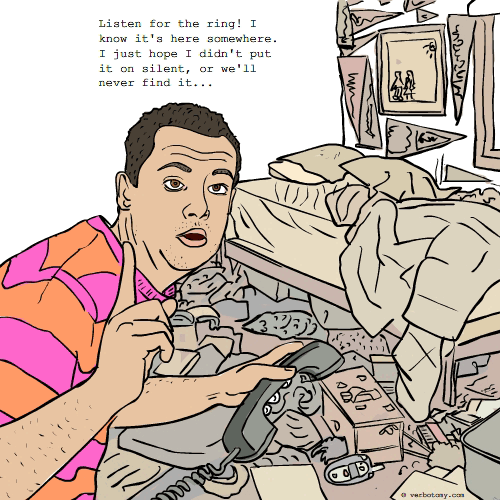 DEFINITION: v., To call your cellphone when you have misplaced it, hoping that it will ring so that you can locate it. n., The sound of a lost cellphone.
Already Voted
Vote not counted. We have already counted two anonymous votes from your network. If you haven't voted yet, you can login and then we will count your vote.
---
Amneing
You still have one vote left...
Created by: Kyoti
Pronunciation: Black-DING-gull-bare-ree
Sentence: Ricky had to blackdingleberry his smartphone for 15 minutes before he finally found it in his pants pocket, in the laundry bin, in the basement, just before Hildegarde dropped it into the washing machine.
Etymology: Black: as in 'black hole' + Blackberry: a popular cell phone organizer gizmo + Ding: a vague and unspecific ringtone + Dingleberry: what you feel like when you can't find your cell phone.
Created by: JoshB
Pronunciation:
Sentence: Jimmy was cryptphoning all night looking for his lost phone.
Etymology: Crypt means hidden, and phon means phone.
Created by: 718114
Pronunciation:
Sentence: We cryptophonagogued my phone and followed the hidden sound to it.
Etymology: Crypt: hidden, secret Phon: sound Agogue: to lead
Created by: 719985
Pronunciation:
Sentence: I lost Katy Perry's phone and couldn't find it, so I called it and heard the phonamne!
Etymology: phon - sound, a, mne - to remember
Created by: artr
Pronunciation: klətərring
Sentence: Charley is quite poor at keeping track of things. He never sets things down in the same place twice. Things end up in the strangest places. He is still trying to figure out how one of his socks ended up in a mayonnaise jar in the fridge, but that*s a different story. His current challenge is to not loose his company-issued Blackberry. He has tried several unique techniques. First there was the gecko location which involved rubber-banding the phone to his pet lizard. FAIL! Mr. Green Britches just shed a tail and went off to sell insurance. Then he tried the string theory. He tied a string around his finger and one around the phone with the thought that like things attract. FAIL! He attached a cookie with a thought that somehow his computer would help him. FAIL! Following the ants only worked for a short time. Finally he has a method that works, clutterring. He bought a tiny, cheap cell that he keeps on a cord around his neck and calls the Blackberry when he needs it. If it is dark, the light on the phone acts like one of those **as seen on TV** specials, the Clapper.(clapperring)
Etymology: clutter (a collection of things lying about in an untidy mass) + ring (of a telephone; produce a series of resonant or vibrating sounds to signal an incoming call)
Created by: zxvasdf
Pronunciation: Ech o cel lu ca tion
Sentence: It was by means of echocellucation that he found the telephone his angry girlfriend had thrown in in the field.
Etymology: Echolocation (means of determining an object's location by reflected sound) & cellular (zombie inducin' portable phone)
----------------------------
COMMENTS:
great word and great etymology - Jabberwocky, 2008-10-08: 10:11:00
----------------------------
Created by: OZZIEBOB
Pronunciation: dahyl-LOH-keyt
Sentence: A teasing telenigma taunted Bob with the usual "notingaling" when he tried to diallocate and phonepoint his cellphone.
Etymology: 1. Dial & locate. 2. Notingaling (Pr. no-ting-a-ling): The sound of a lost (cell) phone. 3. Phonepoint: Based on phone & pinpoint.
----------------------------
COMMENTS:
I love notingaling - Jabberwocky, 2007-11-09: 09:38:00
Wow, four great words! ...Gets my vote. - Tigger, 2007-11-09: 19:21:00
----------------------------
Created by: Floatzilla
Pronunciation: Like an American would say it
Sentence: "Whoever you are, go in the other room and listen while I'm altzerphoning."
Etymology: Tastless humorous reference to symptoms associated with Alzheimer's
Created by: scola
Pronunciation: mar-CALL-poh-ring
Sentence: Having left his phone in a pants pocket, the muffled marcalporing sounded from the bottom of Steve's laundry pile.
Etymology: "call" and "ring" meet "Marco Polo", the classic call and response kids game.
Created by: yellowbird
Pronunciation:
Sentence: My bringtone is The Real Slim Shady so that anyone who hears it will bring my phone to me.
Etymology: bring + tone
----------------------------
COMMENTS:
good word! - Jabberwocky, 2007-11-09: 11:26:00
thanks, jabberwocky. Loved yours yesterday, especially since I still have my ancient Atari :) - yellowbird, 2007-11-09: 15:58:00
First off the bat, an excellent word yellowbird - you have my vote! - Kevcom, 2007-11-11: 14:09:00
Spot on: great word! - OZZIEBOB, 2007-11-11: 16:30:00
----------------------------