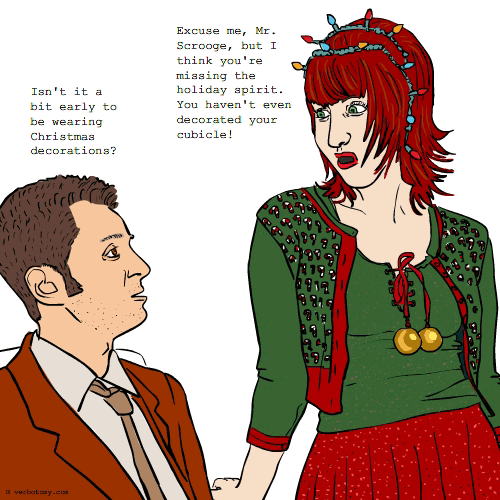 DEFINITION: n., A person so enamored with the holidays that they don't just deck their halls and home, but they also decorate their car, their cubicle, their pets, and themselves. v., To obsessively decorate according to seasonal holidays.
Already Voted
Vote not counted. We have already counted two anonymous votes from your network. If you haven't voted yet, you can login and then we will count your vote.
---
Tinselvate
You still have one vote left...
Created by: Jabberwocky
Pronunciation: reeth/flex
Sentence: Once the first snowflake has fallen it is an automatic wreathflex to bedeck and festoon everything within eyesight with garlands and bows and silver bells...ahhh gives me goosebumps. 'deck the halls with boughs of holly, fa la la la la la la la la'
Etymology: wreath + reflex
----------------------------
COMMENTS:
great word! - galwaywegian, 2007-12-03: 08:02:00
Great word and sentence. - OZZIEBOB, 2007-12-04: 16:38:00
----------------------------
Created by: dubld
Pronunciation: in-fatch-yule-a-shun
Sentence: Her infatyuleation became apparent when she showed up to the office blinking in red and green on the day after Thangskiving.
Etymology: Infatuation + Yule Tide
----------------------------
COMMENTS:
nice - Jabberwocky, 2007-12-03: 16:02:00
----------------------------
Created by: nickmarziani
Pronunciation: tan-in-bum
Sentence: Jesus Christ on a cross, I can't believe how hard Ross is tannenbumming it today. Seriously--holly print leotards?
Etymology: O Tannenbaum, o Tannenbaum, wie treu sind deine Blätter! (+ bum)
Created by: Carla
Pronunciation: Noun: seh-leh-brA-dikt Verb: seh-leh-bruh-dIkt
Sentence: Noun: The celebraddict forbade the others from approaching the Christmas tree - she alone knew where the baubles should hang. Verb: Her compulsion was such that she took tinsel everywhere, needing even to temporarily celebraddict her seat on the bus.
Etymology: Celebrate + Addict
Created by: lpr416
Pronunciation:
Sentence: This is the season that makes all "Hollydeckorators" jolly.
Etymology: from "Deck the Halls with Boughs of Holly" and "decorator"
Created by: sanssouci
Pronunciation: ah deck shone
Sentence: "I did not want to seek help for my addection because it did not feel like a problem. Christmas was such a wondeful time of year so what if people thought I was way too obsessed with geting the christmas decs up everywhere! "
Etymology: combination of addiction and decoration Addiction - the state of being enslaved to a habit or practice or to something that is psychologically or physically habit-forming, as narcotics, to such an extent that its cessation causes severe trauma. Decoration - The act, process, technique, or art of decorating.
Created by: biffbig1
Pronunciation: kris+mess
Sentence: Damn, she was a Krismess!
Etymology: not wanting to say Christ + mess
Created by: teriaki
Pronunciation: fe-STID-ee-uhs
Sentence: She went about the house hanging each ornament with festidious care.
Etymology: L. festus (festival) + L. taedium (wearisome or tedious state)
Created by: OZZIEBOB
Pronunciation: JOO-buh-LAK-ee
Sentence: For Bob, a jubilackey, and, especially, a yulethrall, festinfatuation, with the feriations of the whole world, continued year-long with 365 red-letter days.
Etymology: Blend of JUBILEE: A season of general celebration, holiday and rejoicing & LACKEY: Slave(slang); disciple, follower
----------------------------
COMMENTS:
Good one Bob! - emdeejay, 2008-12-09: 22:22:00
----------------------------
Created by: dapoliti9292
Pronunciation:
Sentence:
Etymology: