Verboticism: Preposterxmas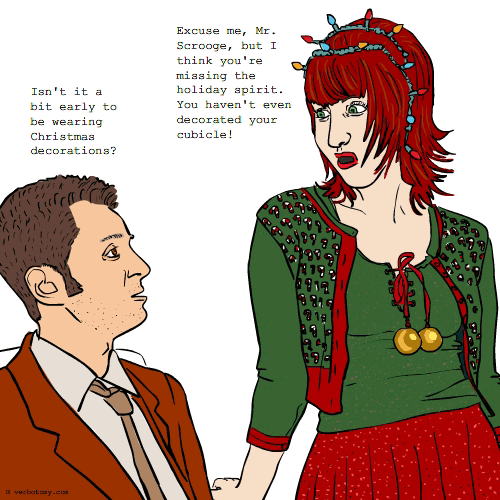 DEFINITION: n., A person so enamored with the holidays that they don't just deck their halls and home, but they also decorate their car, their cubicle, their pets, and themselves. v., To obsessively decorate according to seasonal holidays.
Already Voted
Vote not counted. We have already counted two anonymous votes from your network. If you haven't voted yet, you can login and then we will count your vote.
---
Preposterxmas
You still have one vote left...
Created by: AliA415
Pronunciation:
Sentence:
Etymology:
Created by: galwaywegian
Pronunciation: fes too nat ik
Sentence: he was such a mad festoonatick he tied some sleigh bells on his duck christmas quackers!
Etymology: festoon, lunatic
----------------------------
COMMENTS:
Fantastic and funny - silveryaspen, 2008-12-09: 11:06:00
----------------------------
Created by: sanssouci
Pronunciation: ah deck shone
Sentence: "I did not want to seek help for my addection because it did not feel like a problem. Christmas was such a wondeful time of year so what if people thought I was way too obsessed with geting the christmas decs up everywhere! "
Etymology: combination of addiction and decoration Addiction - the state of being enslaved to a habit or practice or to something that is psychologically or physically habit-forming, as narcotics, to such an extent that its cessation causes severe trauma. Decoration - The act, process, technique, or art of decorating.
Created by: robohamster
Pronunciation: deck o file
Sentence: "I can't believe Susan decorated the toilet this year." "I know, she's a total decophile."
Etymology: pedophile decorate
Created by: Nosila
Pronunciation: yool o jiyze
Sentence: Holly Berry and Carol Sing took the Christmas Season very seriously at work. Just as soon as the Halloween decorations had been removed, they decked their cubicles and all other areas of the office with Christmas lights, mistletoe, garlands, Nativity scenes and various decorations. Every year they would buy more to add to their collections. They also decked themselves in Christmas jewellery, attire and headgear. Visitors were agog at their efforts. Little or no real work was done during this time, although the two elves kept themselves working at a fever pitch to achieve the feeling of Christmas. One year they overdid it and expired. Holly Berry was buried and Carol Sing sung her last song. Their boss, Ebenezer McManager did break down and yuleogize them for their spirit and enthusiasm at all things Christmas. People finally appreciated what those girls had done each year for them. In their honor thereafter, he ordered the decorations to stay up year-round so that their spirits would remind the employees of that Christmas feeling.
Etymology: Yule (Christmas Season, Dec.24-Jan.06;also pagan Winter Season Holidays)& Eulogize (praise formally and eloquently)
Created by: iwmpop
Pronunciation: barmee
Sentence: Decorating as you do is barmy
Etymology:
----------------------------
COMMENTS:
just starting with this "game" so I kept it easy! - iwmpop, 2007-12-03: 06:36:00
----------------------------
Created by: bzav1
Pronunciation: holiday - bah - kul
Sentence: She was green, red and flashing lights from head to toe - a complete holidaybacle! She knew the true meaning of Xcessmas.
Etymology: holiday + debacle
----------------------------
COMMENTS:
very good - Jabberwocky, 2007-12-03: 16:01:00
----------------------------
Created by: artr
Pronunciation: pripästəreksməs
Sentence: Holly's approach to the holidays is truly preopsterxmas. It was bad enough last year when she started wearing a string of lights and couldn't leave her cubicle without trailing extension cords behind her but this year she is festooned with sprigs of holly and ornaments. She is a hazard to be around.
Etymology: preposterous (utterly absurd or ridiculous)+ Xmas (informal term for Christmas)
Created by: Tesher
Pronunciation: HOL-ih-hor
Sentence: Janice and Susan hate each other because they both try to out-holiwhore each other with bells, lights, and mistletoe.
Etymology: Holiday + Whore
----------------------------
COMMENTS:
Hilarious :) - Korinne, 2007-12-03: 23:54:00
----------------------------
Created by: galwaywegian
Pronunciation: unn bee leev a baw bull
Sentence: She was totally unbelievabawble as she jingled all the way to her workgrotto, merrily mincing her buns on her way back from refyuleing at the coffee dock.
Etymology: unbelievable, bauble
----------------------------
COMMENTS:
Congrats on your 'minimaim' fame. Well deserved! - Stevenson0, 2007-12-03: 12:26:00
I like refyuleing as well - Jabberwocky, 2007-12-03: 13:01:00
Big congrats on getting published Galway! (And I personally know a bun-mincer.) - purpleartichokes, 2007-12-03: 19:20:00
Good on ya for success with "minimaim' - OZZIEBOB, 2007-12-04: 16:32:00
----------------------------