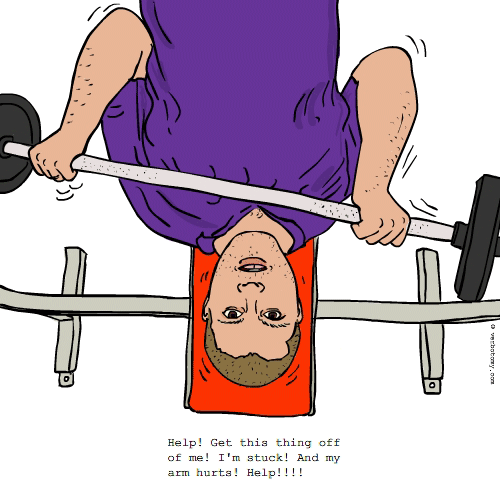 DEFINITION: v. To return to the gym in order to get back in shape, only to over-do-it and injure yourself. n. An injury which is the result of an overly ambitious exercise program.
Already Voted
Vote not counted. We have already counted two anonymous votes from your network. If you haven't voted yet, you can login and then we will count your vote.
---
Weaktard
You still have one vote left...
Created by: CanadianAndyCapp
Pronunciation: Arobe-Ego-nakker-ism
Sentence: At the age of "he should have known better", Richard's desperate desire to recapture his (self-deluded and fictional) youth and prowess, led him to the foolish act of joining the local gym. Once there, the sight of all the highly flexible and youthful "Gumby" girls and the muscular posturing of the male "Hunk" brigade led him to the disasterous effort of trying to compete with those a generation his Junior. The next day in the intensive care wing of the local hospital, his medical chart was filled in by the docter with the phrase "Suffered from an acute case of Arobegoknackerism during an overenergetic kneebend"
Etymology: Arobe- Arobic- (Self-inflicted pain) / Ego (Delusional self opinion) / Knacker (to bring something or oneself to the point of destruction or injury)
Created by: artr
Pronunciation: ōvərdoōd
Sentence: It doesn't take much to get Mickey to overdude his weightlifting routine. Just someone looking his way can cause him to stack on extra weight. The resulting strains and pulls will keep him out of the gym for weeks.
Etymology: overdo (carry to excess; exaggerate) + dude (guy/fool)
Created by: artr
Pronunciation: kaləstrāniks
Sentence: After years of general neglect, Jim decided to get back to the gym. Of course, as with most things, he overdid it. His callistrainics left him on his back on the sofa just like before he began.
Etymology: callisthenics (gymnastic exercises to achieve bodily fitness and grace of movement) + strain (a force tending to pull or stretch something to an extreme or damaging degree)
Created by: rebelvin
Pronunciation: hyper-gym-nast
Sentence: You could tell he was heading for hypergymnasty, by the way he overdid it the very first day.
Etymology: hyper-gym-nast
Created by: pieceof314
Pronunciation: ree-al-ittee-ayk
Sentence: Realityache. Newsome knew it all too well. Who was he kidding? What did he think was going to happen when he finally decided to get off his butt and start working out? Moderation? Nah. With full tilt workouts from the start and after a life of increasing sedentary circumstances, Newsome knew what realityache meant with each excrutiating movement of muscle in his body.
Etymology: reality + ache
Created by: abrakadeborah
Pronunciation: week-tard
Sentence: Wes is such a weaktard when it comes to working out...he always lifts more than he can handle.
Etymology: Weak- Not strong. Tard- part of the slang word re'tard'- Acting stupid.
Created by: Jaye721
Pronunciation: here oh eye tis
Sentence: The gym was filled with pretty girls and his heroitis kicked in. When he lifted the 300lb weight he strained his arm and dropped the weight on his foot.
Etymology:
----------------------------
COMMENTS:
:) - galwaywegian, 2010-07-10: 04:35:00
----------------------------
Created by: artr
Pronunciation: fit-fawl
Sentence: Jim had not been in the gym for some time. His major fitfall was being friends with a "gym rat" who pushed him to pursue the same routine that he follows. Jim now has more pulled muscles than the number of muscles he knew he had.
Etymology: fitness (The state or condition of being physically sound and healthy, especially as the result of exercise and proper nutrition) + pitfall (any trap or danger for the unwary)
Created by: ErWenn
Pronunciation: /ˈdʒɪmˌdʒuɹ/ /JIMM-Joor/
Sentence: They told me to stay away from the free weights to avoid gymjury, but nobody warned me not to lean into the turns on the stationary bike.
Etymology: from gym + (in)jure
----------------------------
COMMENTS:
you must be feeling a bit ginger after that. - petaj, 2008-05-06: 03:38:00
gym gyminie, gym gyminie, gym gymjury (where's purple when you have an annoying song reference) - Jabberwocky, 2008-05-06: 12:27:00
----------------------------
Created by: Ismelstar
Pronunciation: [pind] or [pwind]
Sentence: Determined to defeat his winter love handles, Mark finally returned to the gym only to be pwgymned by the chest press machine for five minutes, like a gnat under a toothpick, while he waited for a trainer to rescue him.
Etymology: A combination of 'gym', a building or room designed and equipped for indoor exercise, and 'pwned', a corruption of the word 'owned' denoting domination by an opponent or situation, especially by some god-like or computer-like force. The combination sounds like 'pinned', meaning to hold something fast in a spot or position.