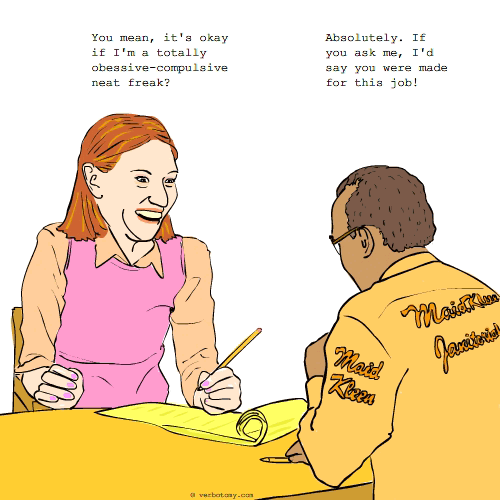 DEFINITION: v. To suddenly discover that your most troublesome personality defect, for which you have been taking medication and/or therapy, is actually your greatest asset. n. A perceived weakness which is actually a strength.
Already Voted
Vote not counted. We have already counted two anonymous votes from your network. If you haven't voted yet, you can login and then we will count your vote.
---
Foibility
You still have one vote left...
Created by: galwaywegian
Pronunciation: loo na tik awl the rite bok ses
Sentence: She managed to lunatickalltherightboxes despite the rather stained resumé
Etymology: lunatic tick all the right boxes
Created by: mrskellyscl
Pronunciation: foy-bil-la-tee
Sentence: Danny's big nose and squeaky voice was his greatest foibility in his career as a television clown. When he was little, all the kids teased him, but when he became a famous Bozo, all the kids loved him.
Etymology: foible: minor weakness or failing of character; an idiocyncracy + ability: a natural or acquired talent
Created by: SethelMerman
Pronunciation: uh-Kill-ease-Hayl
Sentence: Who knew that the fluctuting voice would be just what they were looking for in casting the commercial. Thank God for my Achilleshail.
Etymology: Achilles Heel-a (fatal) weakness in spite of overall strength + Hail-to acclaim
Created by: jadenguy
Pronunciation: luk jaa
Sentence: His inability to talk made him a great grief counciler. His success rate was nearly 87%, with comment cards lauding his ability to listen.
Etymology: lockjaw + luck
Created by: mplsbohemian
Pronunciation: OH-nuhs-boh-nuhs
Sentence: Alex's utter lack of personality proved an onusbonus when he landed a job as an Abercrummie clerk.
Etymology: onus (burden) + bonus (benefit)
----------------------------
COMMENTS:
She's a leftie, cool. -from an ambie - mplsbohemian, 2007-06-26: 01:47:00
Oops, I meant that for the main dealie. - mplsbohemian, 2007-06-26: 01:48:00
----------------------------
Voted For! | Comments and Points
Created by: kirkaw
Pronunciation: traw-maze
Sentence: When Michael's obnoxious outburst at the Marsha resulted in her quiting the next day, to the delighted of the rest of the office staff, he was simply traumazed at himself.
Etymology: trauma - amazed
Created by: fadedeidolon
Pronunciation:
Sentence:
Etymology: flair, failure
Created by: AliA415
Pronunciation: Mer-to-gram
Sentence:
Etymology:
Created by: taejin
Pronunciation:
Sentence:
Etymology:
Created by: remistram
Pronunciation: fawlt-it-tood
Sentence: She displayed her stalking practices daily with her staff, sneaking up behind them, checking her watch each time she saw them away from their cubicles chit chatting with coworkers. This behaviour became her faultitude and discovered she should become a private investigator.
Etymology: fault (flaw, imperfection) + fortitude (mental and emotional strength when facing difficulty, adversity)