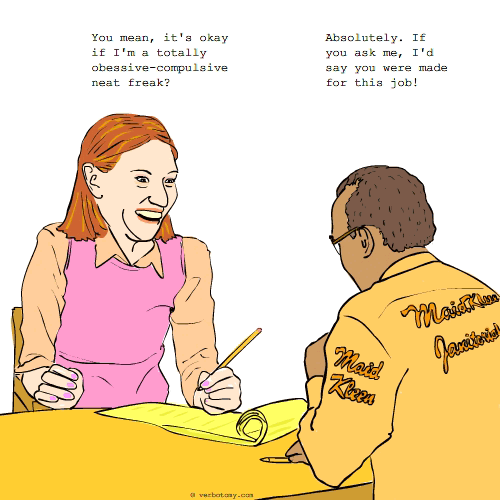 DEFINITION: v. To suddenly discover that your most troublesome personality defect, for which you have been taking medication and/or therapy, is actually your greatest asset. n. A perceived weakness which is actually a strength.
Voted For: Handycap
Successfully added your vote For "Handycap".
You still have one vote left...
Created by: weareallbeautiful
Pronunciation: b-eh-n-kuh-m-puh-v-er-ee
Sentence: Julie made an astonishing bencompovery that her annoying compulsion of organizing everything had gotten her a high paying job as a secretary for the president of one of the most successful corporations in the country.
Etymology: benefit+compulsion+discovery
Created by: Clayton
Pronunciation: fawl-TIL-i-tee
Sentence: Madeline's faultility was her incessant nose-blowing. Her husband thought of divorcing her, but she was such an amazing duck call.
Etymology: fault + utility
Created by: artr
Pronunciation: babəlän
Sentence: Little Johnny Madden was a slow learner. He didn't speak in full sentences til long after his play pals but once he started there was no stopping him. He seemed to revel in the sound of his own voice. His mother's favorite word was "Hush!". Little did anybody realize that he could parlay this annoying trait into a career adding "color" to the commentary of football sportscasters. He would travel from city to city to do his job. Every city he visited would become the new city of Babblon.
Etymology: babble (talk rapidly and continuously in a foolish, excited, or incomprehensible way) + on - A play on Babylon
Created by: taejin
Pronunciation:
Sentence:
Etymology:
Created by: bubbos
Pronunciation: e-pi-fa-click
Sentence: Tom acknowledges that Sally's stubbornness as an epifaclick for her career.
Etymology: epiphany + click, for it all to click in
Created by: remistram
Pronunciation: fawlt-it-tood
Sentence: She displayed her stalking practices daily with her staff, sneaking up behind them, checking her watch each time she saw them away from their cubicles chit chatting with coworkers. This behaviour became her faultitude and discovered she should become a private investigator.
Etymology: fault (flaw, imperfection) + fortitude (mental and emotional strength when facing difficulty, adversity)
Created by: jadenguy
Pronunciation: luk jaa
Sentence: His inability to talk made him a great grief counciler. His success rate was nearly 87%, with comment cards lauding his ability to listen.
Etymology: lockjaw + luck
Created by: remistram
Pronunciation: bo-nuss-nerr-os-iss
Sentence: Viv discovered that her bonusneurosis actually enhanced her standing in the company....numbering all the photocopy paper saved the office money, which in turn led to her promotion.
Etymology: bonus (as in free gift, or reward) + neurosis (a relatively mild personality disorder typified by excessive anxiety or indecision and a degree of social or interpersonal maladjustment)
Created by: rikboyee
Pronunciation: flaw-sum
Sentence: when people mistook my nervous tic for well rehearsed break-dancing, it was flawesome
Etymology: flaw, awesome
----------------------------
COMMENTS:
Good one. - Clayton, 2007-06-25: 21:15:00
----------------------------
Created by: galwaywegian
Pronunciation: loo na tik awl the rite bok ses
Sentence: She managed to lunatickalltherightboxes despite the rather stained resumé
Etymology: lunatic tick all the right boxes