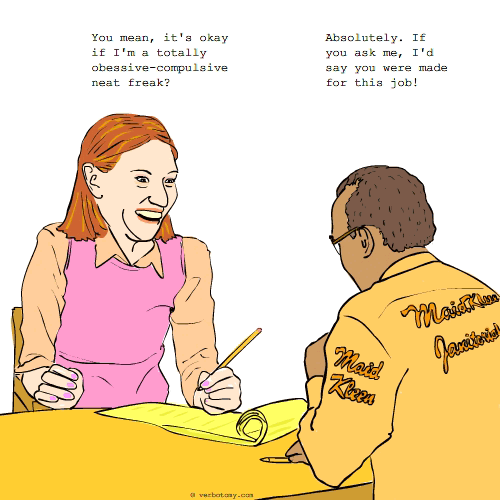 DEFINITION: v. To suddenly discover that your most troublesome personality defect, for which you have been taking medication and/or therapy, is actually your greatest asset. n. A perceived weakness which is actually a strength.
Voted For: Handycap
Successfully added your vote For "Handycap".
You still have one vote left...
Created by: weareallbeautiful
Pronunciation: b-eh-n-kuh-m-puh-v-er-ee
Sentence: Julie made an astonishing bencompovery that her annoying compulsion of organizing everything had gotten her a high paying job as a secretary for the president of one of the most successful corporations in the country.
Etymology: benefit+compulsion+discovery
Created by: scrabbelicious
Pronunciation: Pro-zac-teh-vit-ie
Sentence: Positive discrimination my eye!, thought Julie during her job interview, what I need is some prozactivity, these pills do pay for themselves you know...it says so on the packet.
Etymology: Bonding of 1) Prozac, brand of antidepressant favoured by actor Tom Cruise. 2) Productivity, daily pursuit of the gainfully employed or 10% of actors. 3) activity, type of collective movement engaged in by groups that gather in flurries, as in "a flurry of activiy in the office"
----------------------------
COMMENTS:
An excellent example of prozactive problem solving! - jrogan, 2009-07-31: 10:38:00
----------------------------
Created by: remistram
Pronunciation: fawlt-it-tood
Sentence: She displayed her stalking practices daily with her staff, sneaking up behind them, checking her watch each time she saw them away from their cubicles chit chatting with coworkers. This behaviour became her faultitude and discovered she should become a private investigator.
Etymology: fault (flaw, imperfection) + fortitude (mental and emotional strength when facing difficulty, adversity)
Created by: Nosila
Pronunciation: on suk ses shun
Sentence: Little did Hugh Hefner's parents know that their son's obsession with pet rabbits would make him rich. His compulsion for bunnies turned into an obsuccession. He ended up with bunnies galore (one for each month of the year) a Bunny Club in every city, a Bunny TV Channel, a Bunny Mansion, a Bunny Magazine and a Bunny Jet. They were happy that his success was just based upon his love of bunnies, because as a little boy, he was also obsessed with naked girls...
Etymology: Obsession (an unhealthy and compulsive preoccupation with something or someone;an irrational motive for performing trivial or repetitive actions against your will)& Success (an event that accomplishes its intended purpose;a state of prosperity or fame)
Created by: galwaywegian
Pronunciation: loo na tik awl the rite bok ses
Sentence: She managed to lunatickalltherightboxes despite the rather stained resumé
Etymology: lunatic tick all the right boxes
Created by: hamburgerman
Pronunciation: flaw sum
Sentence: OMG! dude, thats totally flawsome!
Etymology: flaw + awesome = flawsome
----------------------------
COMMENTS:
no comment - hamburgerman, 2009-08-20: 21:34:00
----------------------------
Created by: bubbos
Pronunciation: e-pi-fa-click
Sentence: Tom acknowledges that Sally's stubbornness as an epifaclick for her career.
Etymology: epiphany + click, for it all to click in
Created by: mweinmann
Pronunciation: flaw - po - tent
Sentence: Sally felt flawpotent when her relentless jabbering and wild hair got her a spot on the popular gameshow "Everyone's Talking but Nobody's Listening"....
Etymology: flaw, compenent, potent
----------------------------
COMMENTS:
That gameshow is Twitter - jrogan, 2009-07-31: 10:41:00
----------------------------
Created by: petaj
Pronunciation: flawnt-it
Sentence: Cherie really started marketing herself when she realised her flawntit gave her an oddvantage over the other candidates.
Etymology: flaw + If you've got it flaunt it.
Created by: purpleartichokes
Pronunciation: em-foy-bull
Sentence: "Eureklutz!" Ted exclaimed, as he landed that nifty job as a baggage handler. He had become emfoible.
Etymology: employable, foible